Prudential Rubloff and Koenig & Strey are preparing for a major announcement later today; could it be a merger?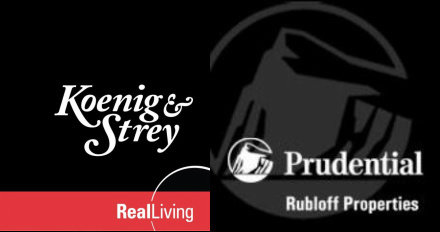 Prudential Rubloff Properties and Koenig & Strey Real Living are prepping for a 3:30 p.m. announcement this afternoon, though the exact nature of the announcement remains to be seen.
Rumors have been swirling in recent weeks regarding a proposed merger of the two brokerages, which would, according to a new report by Chicago Real Estate Daily, result in the second-largest residential brokerage team in the Chicagoland area; according to recent market data from REAL Trends Inc., the brokerages had a combined sales volume of $4.1 billion in 2012.
A Possible Merger for Prudential/Koenig?
As the writer of the Chicago Real Estate Daily report, David Lee Matthews, noted, Prudential Rubloff and Koenig & Strey could also be planning a more strategic combination of their services, rather than an all-out merger. One possibility is a sharing of the Berkshire Hathaway HomeServices brand; after all, Koenig has already taken steps to adopt the Berkshire name, which acquired both the Prudential and Real Living brands late last year (which did not, as we noted at the time, impact Prudential Rubloff).
Furthermore, a couple days ago, a video surfaced on YouTube featuring Koenig & Strey CEO Nancy Nagy, Prudential Rubloff CEO Chris Eigel and Prudential President and Chairman Michael Pierson, though again, none of the leaders mentioned the exact nature of today's 3:30 announcement.
"The Koenig & Strey and Rubloff names," Eigel said in the video, "each have a rich history and legacy in this market, and we look forward to working closely together and setting a course for incredible success."
Preliminary Steps
Matthews noted in his report that both Eigel and a Koenig & Strey spokeswoman declined to comment on today's announcement, and Chicago Agent's calls to the respective brokerages earlier today were not returned. Additionally, a spokeswoman for Berkshire declined to comment to Matthews, though she did indicate a news release will be released this afternoon.
Finally, though nothing definitive is known about the announcement, Matthews did uncover an interesting nugget of information. A new domain, koenigandrubloff.com, was register on Oct. 10 of this year, and though the site is not yet active, a blurb accompanying the domain name specifically mentions the "transaction" that "unites the two companies, creating an organization with nearly 1,600 real estate professionals and staff."
We'll update this story with additional information as soon as we can.
UPDATE: Prudential and Koenig did indeed announce a merger; you can read more about it here.