Housing activity remained very strong throughout Chicagoland in September, with both the city and suburbs posting strong numbers.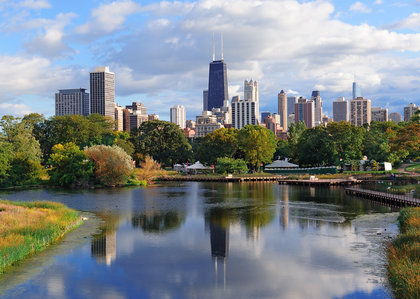 Homes sales in the nine-county Chicago Primary Metropolitan Statistical Area rose 25.6 percent year-over-year in September, rising to an impressive total of 9,583 sales, according to the latest numbers by the Illinois Association of Realtors.
Median price was also up, rising 15.6 percent from $160,000 last year to $185,000 this year, but most impressive of all was time on market, which fell from 83 days in September 2012 to 61 days this year.
A Housing Recovery in the City of Chicago
The housing stats were also impressive in the city of Chicago. Home sales were up 23.4 percent year-over-year to 2,352 sales, and median price for single-family homes rose 22.6 percent to $231,000. Median condo prices, meanwhile, rose 18.7 percent to $273,000, and time on market plummeted 30.6 percent to just 50 days.
Matt Farrell, the president of the Chicago Association of Realtors, said that home sales year-to-date are up more than 25 percent in Chicago, an increase driven by a renewed confidence from consumers.
"The surge we've seen is likely due to an increased feeling of stability in the housing market, as well as the return of jumbo loan options for buyers," Farrell said. "Chicago remains among the most affordable urban markets for families looking to make a world-class city their home, and still offers attractive housing options for those in the first-time buyer or move-up marketplace."
Chicagoland Suburbs Flying High
Of course, the surrounding suburbs of Chicagoland are doing quite well in their own right.
According to new data from the Mainstreet Organization of Realtors (MORe), sales of single-family, detached homes in suburban Chicago increased 30.7 percent in September 2013 compared with the same period a year ago, while the median sale price for detached homes increased 12.6 percent and the number of homes under contract rose by 30.4 percent. Sales were particularly strong in areas such as Burr Ridge, where sales were up 120 percent, along with Downers Grove (100 percent), Rolling Meadows (130 percent) and Warrenville (250 percent).
Michael Parent, the president of MORe, said that though he anticipates a strong fourth quarter for Chicagoland's housing market, the growth will be patchy.
"Activity has been sporadic in many markets," he said. "Some brokers are swamped, then slow, then swamped again the next month. Whether you are buying or selling, at the end of the day you have to know your market, and that's where your Realtor comes in."