Fire sprinklers could soon be required for all new construction residential developments in Illinois, if a proposal by the state's Fire Marshal is adopted.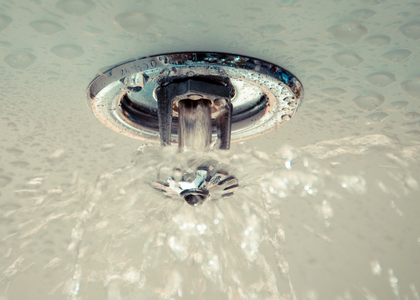 After considerable anticipation, the Office of the Illinois State Fire Marshal has proposed that the state require all new single-family and two-family home built in the Land of Lincoln to include fire sprinklers.
The measure would make Illinois only the third state (after California and Maryland) to adopt such a requirement, which is bound to be controversial with some builders and communities.
The Polarizing Effect of Mandated Fire Sprinklers
Pros
Andrew Mason, a spokesman for the state fire marshal's office, told the Chicago Tribune that not only do fire sprinklers save lives, but their increased usage is gaining support in the greater community.
"We think we're getting to a tipping point where this makes sense for a lot of people," he said. "We know it saves lives."
Also, the Tribune noted that, according to proponents, the costs of such a measure would not be too strenuous. Along with lowering home insurance costs, the national average of fire sprinklers amount to an extra $1.61 a square foot, or roughly an extra $3,200 for a 2,000-square-foot home; those costs, though, could increase if a municipality decides that a larger waterline or separate waterline is needed for the sprinkler system.
Cons
There is far from a consensus, though, that a fire sprinkler requirement would be a good thing, with the Tribune noting that homebuilders and local governments dislike the costs and bureaucracy that could come with the requirement.
One Chicagoland community that already requires sprinklers in new single-family homes is Long Grove, and Brian Brunhofer, the president and owner of Meritus Homes, told the Tribune that the requirement adds $9,000 to $10,000 to the 2,600-square-foot to 3,600-square-foot homes that Meritus builds in the community.
"I wouldn't say that's a feature that many people come in looking for," Brunhofer said. "We like to let people choose what they want, whether it be on the exterior or the interior. (Fire sprinklers) are designed to be as aesthetically pleasing as possible, but you can't hide a fire suppression sprinkler head."
Other Chicagoland cities have sprinkler rules, though there are notable caveats. Aurora, for instance, opposes a statewide mandate, though it requires new homes with a first floor of 5,000 square feet or larger to install fire sprinklers. Similarly, Elgin opposes the mandate, but since October 2012, the city has required builders of new homes to either install sprinklers or follow specific building techniques – all builders, thus far, have chosen the building techniques.
To Adopt, or Not Adopt?
Illinois can adopt the fire sprinkler requirement without legislation, though there must be a public hearing on the matter, which would require an administrated rule change to go into effect.
The hearing is scheduled for later today in Springfield, and if adopted, it would go into affect in late 2013/early 2014. Stay tuned for updates!
UPDATE: The fire marshal announced that he is shelving the plan for the time being.