Holly Bergren & Michael Kreuser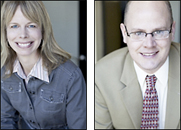 Holly Bergren and Michael Kreuser are two of the top brokers at CONLON: A Real Estate Company and work together as the Bergren Kreuser Team. Collectively, they have 25 years of experience in Chicago's residential real estate market and have sold more than 400 properties worth over $100 million.
"We find working as a team has been extremely beneficial to our clients. We are able to provide them with our combined knowledge and expertise. Since real estate is a logistically demanding business, working together allows us to be in multiple places at the same time. We constantly coordinate our schedules to ensure that all of our clients' and showing needs are being met."
Michael and Holly enjoy working with both buyers and sellers. With their sellers, Michael and Holly start with the fundamentals. They work with their clients to make sure the home shows well, is priced well, and has terrific professional photos. Then the team pushes the online marketing edge as much as possible. As Zillow Premier Agents with five star reviews, Bergren Kreuser Team listings are enhanced and featured on one of the top real estate search sites in the country. Their listings are also promoted on social media, receive custom websites, and are enhanced on several other top consumer websites.
When not out with clients, Michael and Holly can often be found walking their golden retriever, Scout, or exploring one of Chicago's great neighborhood restaurants. They also love foreign travel and try to explore a new country when they can!
Congratulations, Holly Bergren and Michael Kreuser, on another great year!
Bergren Kreuser Team current listings include: