38 Percent of Listings in the MLS Have Only One Photo
This is an interesting yet shocking statistic: LeapRE found that a whopping 38 percent of listings in the MLS only have one photo that show the property. Yes, 38 percent – not quite almost half of all listings – have just one photo for homebuyers to see. At least 35 percent of agents put 16 photos of a home they're trying to sell on the MLS.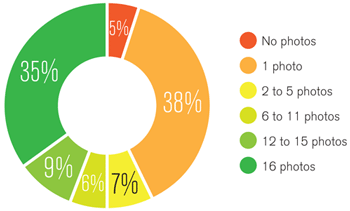 Leap Real Estate Systems is the leading provider of online solutions for Chicagoland's progressive agents. With over 20 years of software development experience and a keen understanding of the real estate industry through analytics, our mission is to create innovative products that improve seller communication and encourage data-driven decision making. For more information on our company and services, visit www.LeapRE.com.