See the top chicagoland agents, brokers and deals of 2011!
Chicago Agent magazine has now released the highly anticipated fourth edition of Real Data, the premiere residential reference guide in the real estate industry.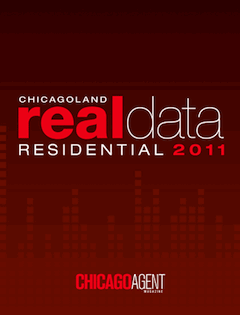 Filled with statistics about the market in the six Chicagoland counties (Cook, DuPage, Kane, Lake, McHenry and Will), the Real Data book also lists the top agents and brokerages in each county. Overall, Coldwell Residential Brokerage's Lincoln Park Plaza office nabbed the first place spot for the entire Chicagoland area, while two @properties offices secured the second (Lincoln Park) and third (Bucktown) place slots. Michael Holtorf of Equity Brokerage Services was the top agent in terms of dollar volume closed, with Ralph Oliva of Coldwell Banker Lincoln Park Plaza second and Arthur Cirignani with Chicago Realty Partners in Chicago third.
While many of the most visited features are still present in the book, a few new ones have been added, including the highest priced homes that closed between Jan. 1 – Oct. 31, 2010 in each county. As in previous years, the online issue also highlights inventory and absorption, as well as price reduction totals for each county.
In addition to agents clamoring for a coveted spot on the top agent and brokerage lists, the information found in the Real Data book demonstrates where the market has been and where it has headed.
"This is by far one of the most popular online features of the magazine that we are pleased to put together each year," says Anne Brindle, publisher of Chicago Agent magazine. "Agents are excited to see where they fall on the list, and it helps them figure out their goals for the upcoming year."
All of the statistics and information from the Real Data book reflections transactions that closed between Jan. 1 and Oct. 31, 2010. All information was obtained, analyzed and provided by: LeapRE-Chicago's Real Estate Data Experts, Edward Foster & Company, individual brokerages and agents, MRED LLC.
About Chicago Agent
Chicago Agent magazine and ChicagoAgentMagazine.com is a subsidiary of Agent Publishing, the only media company that unites the residential housing industry in local markets across the U.S. Realtors, developers, lenders and industry affiliates look to Chicago Agent for news, information, advice and important data relevant to the Chicagoland area. The only company that addresses the business and personal needs of the real estate professional, Chicago Agent magazine is delivered to thousands of agents in hundreds of realty offices in the Chicagoland area. For more information, visit ChicagoAgentMagazine.com.