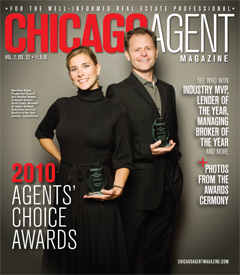 We asked, and our readers answered: the following 15 companies and agents are the best of the best in the Chicagoland real estate industry.
Chicago Agent's fifth annual Agents' Choice Awards survey winners were all selected by our readers, who voted for their favorites through an online poll.
This year, we mixed things up with some new categories, while a few of the most popular still remain in tact. We've added "Best Dressed" and "Rookie of the Year," and the luxury award is now known as the "Upper Bracket." Industry favorites "Best Brokerage Website" and "Lender of the Year" are still present, our new "Managing Broker of the Year" award recognizes the hard work of managing brokers and our "Industry MVP" award honors the veterans of the industry that find success year after year.
Inside the following pages, you will find out who has been honored with an Agents' Choice Award in 2010, and we've gathered photos, bios and quotes straight from the winners to show you what makes these companies and individuals the most beloved around.
These are your favorites, Chicagoland, so take a look at the people and companies that make our industry a great place to be.
See photos from our awards ceremony here.