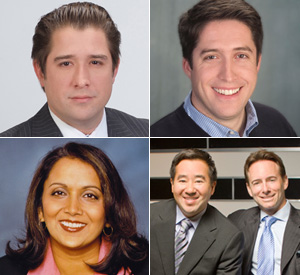 Jameson Real Estate announced today that the former principals of Helios Realty, a Chicago-based commercial and residential real estate brokerage firm, will join Jameson.
Andrew Magliochetti and Joe Magliochetti each will hold the title of Director and Tripti Kasal will hold the title of Senior Vice President.  In their prior commercial and residential leadership roles at Helios Realty, the Magliochettis and Kasal managed a team of approximately 60 real estate sales and leasing professionals
"Andy and Joe have established themselves in the commercial real estate arena and we are very excited to welcome such well-respected and talented brokers to our commercial division.  Tripti Kasal is returning to Jameson after nearly 15 years and brings a high level of experience and success with her," said Christopher Feurer, Chief Executive Officer of Jameson Real Estate LLC (Jameson).
"The decision to join forces with Jameson was a natural choice for us as we recognize the similarities between our business, and see the opportunity to achieve the next level of success under one strong brand," said Andy Magliochetti.  "The marketing and technology programs at Jameson are top notch and we will have access to a support staff that is unmatched in the market."
Mike Sato, President of Jameson, added, "We are confident that this will further the reputation of our commercial real estate group, while adding to our residential market reach.  Andy, Joe and Tripti are great leaders and the perfect complement to the business philosophies and platforms at Jameson."
The formidable presence of Jameson has been well recognized by the industry, with Jameson being voted Favorite Brokerage-City 2009 by Chicago Agent Magazine.  The current expansion is further proof of Jameson's model to unite top industry professionals under one roof.
Jameson is a full-service residential and commercial brokerage firm of over 300 agents located at 425 W. North Avenue in Chicago's Old Town neighborhood.   The company's website is www.jameson.com