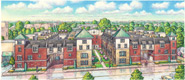 Downers Grove
The former Reporter/Progress Newspaper building site located at 922 Warren Ave. in Downers Grove will soon be the home to 28 townhomes built by R.D.P. Global Development. Pricing for these two- and three-bedroom urban walk-up townhomes starts in the mid $400,000s.
The townhomes have three levels of living and come with two-car attached garages and include 2,475 to 3,320 square feet of living space. Each unit has three levels of living with a spacious rooftop deck. There is also stain-resistant carpeting in the family room, bedrooms, hallway and stairs. In addition to bamboo hardwood flooring throughout, the homes have high-efficiency 90 percent gas forced air heating and cooling systems.
The gourmet kitchens have custom cabinetry, granite countertops, upgraded maple cabinets available in five colors and built-in stainless steel appliances. Other features include a fireplace in the family room, upgraded lighting and flooring packages, private balconies, courtyard views and a laundry area with washer and dryer hook-ups.
The New 922 is located across from the downtown Downers Grove train station, making it a convenient location for commuters.
For more information, call Jamie Kamykowski at 630.241.9030, e-mail her at thenew922@yahoo.com or visit the Web site at thenew922.com
THE NEW 922
Location: 922 Warren Ave., Downers Grove
Housing Type: Urban walk-up townhomes
Number of Units: 28
Number Sold: 4 deposits
Delivery Date: Immediate
Price Range: $474,500 – $539,500
Co-op: 2.5%
Developer: R. D. P. Global Development
Copyright 2009 Agent Publishing LLC