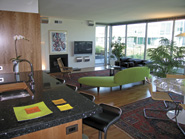 Co-op commission – 3%
This two-bedroom, two-bathroom condominium is located in the third and final phase of Optima Old Orchard Woods. The Optima Old Orchard Woods condominium community is along the North Shore, and was designed by nationally acclaimed architect/builder David Hovey. The community has an indoor pool with spa tubs, a sundeck, fitness rooms, party room and a tennis court in a picnic grove. This unit has a stainless steel appliance package, granite kitchen counterops and marble bathroom countertops. An indoor heated garage space is included. There are 21 furnished models, and the community is open daily from 10 a.m. to 5 p.m.
For more information on this home or other residences, please contact the Optima Old Orchard Woods Condominium Sales Center at 847.583.4700 or visit optimaweb.com.
Features
Stainless steel appliances
Hardwood floors in living areas
Granite kitchen
countertops
Indoor heated garage space