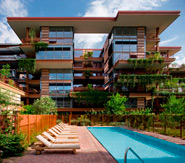 Scottsdale, Arizona
Optima Camelview Village — a mixed-use condominium comprised of 11 terraced, bridge-linked buildings — offers panoramic views of Camelback and Mummy Mountains from many of its 700 units.
The building is designed to blend an urban setting with the natural desert landscape. Optima Camelview Village has created a pedestrian-friendly shaded environment of interconnected landscaped courtyards. Part of the 2009 USGBC Greenbuild Expo, these condominiums integrate green design and technology to enhance ecological stewardship and provide private landscaped space to every residence.
The community is home to luxury residential units, two restaurants (with "room service"), a dog park and dry cleaners. It also includes a 24,000-square-foot fitness center (which includes basketball and racquetball courts), a putting green, a "green" salon, three pools, dozens of fountains and a waterfall. The 11 buildings in this 13-acre resort-style community offer 23 acres of on-site landscaping.
In addition to a selection of residences and numerous floor plans, Camelview Village also has executive suites, known as The Offices of Camelview Village, for individuals or businesses to lease. Tenants will have floor-to-ceiling glass windows looking out onto the courtyard. Amenities for these executive suites include use of the on-site concierge service and a business center conference room, secure TI connection, fax and copy machines and a VoIP handset phone with unlimited local minutes and 500 long-distance minutes per month.
Located steps away from Old Town Scottsdale, residents of Camelview Village can walk to Scottsdale Fashion Square and downtown Scottsdale's shopping, dining, entertainment and cultural venues. The development is also near hiking and biking paths and several golf courses.
Camelview Village offers a referral incentive program, where brokers receive 3 percent for a client referred who closes without an outside Realtor, and 1 percent if working with a local Realtor.
OPTIMA CAMELVIEW VILLAGE
Location-Scottsdale, Arizona
Housing Type-Mixed-use condominium
Number of Units-700
Number (or percent) Sold-87%
Delivery Date-Immediate
Price Range-$350,000 – $1,800,000
Co-op Commission-3% first sale; 3.5% second sale; 4% third sale and up
Architect-David C. Hovey, FAIA – David Hovey Associates Architect, Inc.
Developer-Optima DCH Development, Inc.
ASK THE DEVELOPER:
David Hovey
When did construction begin on this project? When will it be complete? The ground was broken in 2005 for this three-phase, 13-acre luxury residential condominium project. Construction in the last of the 11 buildings is slated to be complete in early 2011.
Why would this project be appealing to Chicago-area buyers? Scottsdale has long been the home away from home for discriminating Chicagoans. Nearly one-third of our homeowners there are from Chicago, and many are repeat buyers who also reside in an Optima condo on the North Shore. Besides the obvious weather advantages, this development is a haven for golf enthusiasts, with over a dozen world-class golf and country clubs within a 10-mile radius. We have also partnered with McCormick Ranch Golf Club, offering a golf membership (good through Oct. 31, 2010) for new home purchases.
Additionally, Chicagoans will love to transfer their restaurant and shopping appetites to the largest mall west of the Mississippi (Fashion Square Mall) and award-winning chefs – all a walking distance away. Finally, there is nothing like Spring Training to beckon Chicagoans to the Cubs cactus facility, as well as the chance to see other MLB teams in action.
What makes this project unique in general?
Slated for LEED Silver certification, Optima Camelview Village is one of the first buildings in the world to incorporate a multi-storied landscaped living environment. We are proud that it is the most architecturally and environmentally award-winning development in the Valley, recognized for being one of the top architectural achievements in Arizona.