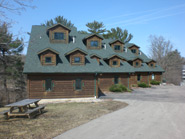 Lake Delton, Wisconsin
The waterfront Log Gables Condos are located in the heart of Lake Delton, Wisconsin. The four-unit complex in the Wisconsin Dells area features log sided, townhouse-style condos.
Embellished with a log and stone exterior construction, these condos are also characterized by a North/Woodland décor inside. Each of the Log Gables Condos features two floor-to-ceiling stone fireplaces, granite countertops, hardwood flooring and ceramic tile.
Each unit has two bedrooms and a loft, a Whirlpool tub, three bathrooms and 3,000 square feet of finished living space, including a basement. The kitchen opens to a window-lined living room with lake views. The condos are fully furnished and come with all appliances, including an in-unit washer and dryer.
The units also have an attached one-car garage, two waterfront decks and a patio. There is also potential for piers on Lake Delton and vacation rental income.
With immediate delivery, the whole development is available for purchase. Buyers can purchase condos individually, or the entire complex.
For more information, contact Kirkland Kettleson, a top agent at Century 21 Affiliated in the Wisconsin Dells, at 608.692.5911 or Kirk@C21Affiliated.com. visit Perfect-Property.com for more information.
LOG GABLES CONDOS
Location-31 Canyon Road. Lake Delton, Wisconsin
Housing Type-Townhouse-style condos
Number of Units-4
Delivery Date-Immediate
Price Range-$250,000 per unit, $895,000 for the development
Co-op Commission-3%
ASK THE AGENT:
How did you find this listing? These condos are bank owned and were an affiliate company referral.
What makes this listing unique? What's unique is that this is the only development in Lake Delton where the entire development is available for purchase. Buyers can choose to purchase the condos individually for $250,000 each, or the entire development for $895,000. Also, the development includes additional vacant land that is approved for another five identical units.
How many showings did you have in the first week? In the first week of listing, there were four showings.
How long has this property been on the market? The property has been on the market since the last week in February.