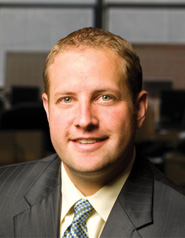 by Chris Knapp
What defines the "best" deal?
This year has been identified as the year of continued change in the real estate and mortgage industries. Defining the "best" deal is no exception to this change. In the recent past, the definition was fairly straightforward. The best deal was so often identified by the lowest overall rate and costs. However, we have found ourselves with a new perspective, and that simplicity has been replaced by detail. In order to assess our client's situation and assist in getting them the best deal, we should approach each transaction as unique, just as we do each piece of real estate; no two clients are exactly the same.
Identify Their Needs
To be the best salesperson, listening to the client's needs and identifying a solution is the key. With the current state of our economy, the two main areas of challenge that have created a recurring conversation are the availability of private mortgage insurance (PMI) and reasonable down payment options on conforming and jumbo financing.
Those programs requiring private mortgage insurance (typically when a borrower has less than 20 percent down) have undoubtedly resulted in the prevention of some clients being able to qualify for their mortgage. This is because the guidelines for obtaining this insurance have become more restrictive. However, it is important to point out that there are still options for 5 percent down payment financing on condominiums with private mortgage insurance. These programs are lender specific, and Guaranteed Rate is one that does offer this option.
Furthermore, we have seen some relief in the PMI industry and even more insurance companies are offering expanded criteria, resulting in better borrower qualifications. Jumbo financing is an additional focus that needs to be understood. These loans are currently difficult to sell on the secondary market, and have placed a tremendous amount of stress on the banks that offer this lending option. As a result, this has placed pressure on the sale of properties that typically need these loans.
The good news is that this lending has also seen improvement. Guaranteed Rate can offer as little as 10 percent down payment on loan amounts up to $625,500 and even 20 percent down on $2,000,000 loan amounts with acceptable qualifications for both the client and the property.
Identify Their Goals
The goals of each client are crucial because they ensure that each individual is receiving the best deal available. In this environment, the best deal may be the one with the down payment that fits the client's financial goals, or the mortgage amount that translates into a comfortable monthly payment. Tying the goals together with realistic financing options may take some leg work, which is why it is more important now than ever to suggest a pre-approval process to any client that wants to buy (even the most seasoned of buyers). A lender that provides an adequate number of options, prompt responses and exceptional knowledge is an essential asset to the client.
Give Them Reasonable Expectations
Setting the client's expectations is vital to a smooth lending process. Purchasing a home today requires patience and understanding. With all parties working together, we can realize success, and reach our goals of getting our clients the best deal!
Chris Knapp is senior vice president of mortgage lending with Guaranteed Rate, Inc. Knapp has 16 years of experience in the mortgage industry, and is a member of Guaranteed Rate's President's Club. He has been a participant in numerous real estate panels, advisory boards and has been recognized as a top mortgage banker by the Illinois Association of mortgage professionals. Knapp can be reached at 773.290.0372, and by e-mail at chris.knapp@guaranteedrate.com.