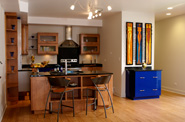 Sales have begun at 3308 South Lowe Ave., where developer Bozena (Bo) Boguslawski has converted a four-unit apartment building into three condominiums.
The 1,300-square-foot garden level apartment is priced at $289,000, and includes two bedrooms and two bathrooms. The 1,500-square-foot main floor unit is the partially furnished model, and is priced at $347,000 with two bedrooms and two bathrooms. The penthouse is 2,600 square feet, and includes two bedrooms, two bathrooms and a large loft that could be used as a third bedroom or a home office. The penthouse is priced at $539,000. Recycling is the first phase of Boguslawski's approach to energy conservation, and almost all the doors and woodwork throughout the building are recycled Brazilian mahogany. The stairs, three inches thick, are made from red and white oak salvaged from a site in Evanston, while the floors are made of recycled bamboo.
Each of the three homes at 3308 S. Lowe have divergent floor plans, floor treatments and other decorating features; even the cabinet knobs vary in design.
Other green features include Energy Star appliances, low-e windows and doors, eco-spec paint, icynene spray foam insulation, solar exterior lighting and recycled steel on the exterior balconies and railing treatments. The bathrooms include recycled glass shower doors and counters, along with dual flush low-flow toilets and electric water heaters.
To visit Bridgeport Green from the Dan Ryan Expressway (Int. 90-94), take 35th Street west approximately one half mile to Lowe. Turn north two blocks to 3308 South Lowe.
For more information, call Bob Atkins of Koenig & Strey at 312.758.7070 or e-mail him at batkins@ksgmac.com, or visit 3308slowe.com.
BRIDGEPORT GREEN
Location-3308 S. Lowe Ave., Chicago
Housing Type-Condos
Number of Units-3
Delivery Date-Immediate
Price Range-$289,000-$539,000
Co-op Commission-5%
Architect-360 Design
Developer-Bo Boguslawski
ASK THE DEVELOPER:
Bozena (Bo) Boguslawski
How long have you been working on this project?
The green condos project consumed almost a year and a half of my life in planning and construction. The materials and processes I learned about and wanted to include are cutting edge. Even though the city encourages green concepts, they are very slow to grant permits. I have received great response from Alderman Balcer, my Bridgeport alderman, who has been great in helping with the success of the building.
How many projects have you worked on in the Chicagoland area?
I have worked on several dozen projects in Chicago, and Bridgeport specifically. Single-family, small and large apartment and condo buildings have all been a source of learning and satisfaction to me. Working with my tenants to understand their needs and creating good living environments for them within their homes has given me huge insight to make each project better than the one before. This is my first totally green development in Bridgeport.
Do you have any other projects coming up soon?
I am a builder, mom and landlord. I focus on one project at a time so that I have ample time to dedicate to my current tenants and family. When all units in this condo are sold, I will have the time and finances to start anew.