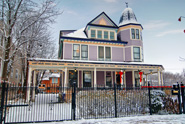 Co-op commission: 2.5% – $225
Located on the northeast corner of Wilson and Hermitage Avenues in the Ravenswood neighborhood, the Abbott Mansion has been called the "Jewel in Chicago's Crown." Situated on three oversized Chicago lots equaling 92 by 165 feet, this Queen Anne-style Victorian home retains its original architectural elements, including a sweeping wraparound porch, porte-cochere and two-story corner turret. The main residence has 6,000 square feet of living space, 17 rooms, six bedrooms, seven bathrooms, an elevator, a full unfinished lower level and updated mechanicals. There is also a fully renovated two-story carriage house on the premises, which features two bedrooms, two bathrooms and 1,400 square feet of living space. Built in 1891 by Dr. Wallace C. Abbott, the residence has been occupied by only four families over the years. The original Abbott Mansion in Ravenswood was awarded the 2009 Chicago Painted Lady Award and received Historic Landmark status in 2005, enabling a buyer to participate in the landmark tax freeze program.
For more information, contact Laura Topp, a top producer at Koenig & Strey in Chicago. Topp can be reached at 773.419.0076, or by e-mail at ltopp@ksgmac.com.
MEET THE AGENT
Laura Topp
How did you find this listing? This listing came through a referral from my sphere of influence.
What makes this listing unique? This listing is unique because it is the Abbott Mansion, a well-known and esteemed Chicago landmark. This 17-room Queen Anne-style house was built in 1891 by pioneering physician and pharmacologist Dr. Wallace C. Abbott, founder of pharmaceutical giant Abbott Laboratories. The Fortune 500 company with over 72,000 employees worldwide and annual revenue of $29 billion was originally established out of the first floor office and lower level of the Abbott Mansion.
How many showings have you had so far? Six
How long has the listing been on the market? I have had the listing since the beginning of January 2010. The home was on the market during the second half of 2009 with another agent for about six months at a higher price.