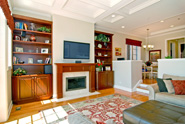 Co-op commission: 2.5% – $275
This five-bedroom, four-and-one-half-bathroom home is located on a private cul-de-sac street. The home has a two-car heated garage, a two-car heated driveway and a mudroom. This house opens to a brand new city park that just opened in January. There is also a roofdeck, a deck off the family room and a large backyard, and it is located in the Burley School District.
For more information, contact Nancy Tassone with Sudler Sotheby's International Realty. Tassone can be reached at 312.215.9701 or by e-mail at nancy.tassone@sothebysrealty.com.
MEET THE AGENT
How did you find this listing? Since the redevelopment of the "Paulina Corridor," beginning in 2004, I worked hand-in-hand with JDL Development to sell over 115 homes, townhomes and rowhomes in the area. JDL Development built this custom home for the owners on the private cul-de-sac street, and since then I maintained a relationship with the owners and have lived within one block for six years. They contacted me when they were ready to put the home on the market.
What makes this listing unique? This listing offers two primary features that are not available anywhere else in the city. First, the home sits on a brand new two-acre city park that just opened in January. You literally walk out your backyard into the park. Second, the home is on a private, cul-de-sac street with only 10 other estates.
How many showings have you had so far? About 10, six of which have been since we lowered the price to $1,599,000. We are gaining serious momentum and have had a handful of second showings. I believe this is indicative of the state of the market, given the amount of inventory available in the single-family home arena.
How long has the listing been on the market? Since September 2009