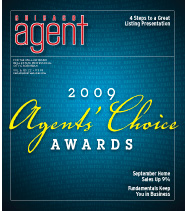 The people have spoken once again, and this is what they have to say: the following 17 companies and projects are the best of the best in the Chicagoland real estate industry. 

Chicago Agent's fourth annual Agents' Choice Awards survey winners were selected by our readers, who voted through an online poll. 

The online survey featured categories ranging from "Favorite Web Site" to "Favorite Luxury Real Estate Service" and "Favorite Mortgage Company." Inside you will find the companies and places that our Realtor readers voted their favorites in Chicago, from downtown to Wheeling, and everything in between.

These are your favorites, Chicagoland, so take a look at the companies and projects that the industry is raving about as the market starts to heat up once again.
CLICK HERE to view the winners and nominees.