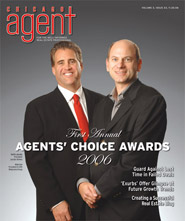 The readers have spoken, and the results are in for our first-ever Agents' Choice Awards survey.
What does it mean to be the best? Is it totally subjective? Or can one person or company truly earn the right to be called "the best?"
The word "best" usually refers to something being of the highest quality, excellence or standing. To be the best, a person, place or level of service must shine brighter than do the competitors, big and small. In an area the size of Chicagoland, that's a significant achievement.
Chicago Agent's first-ever Agents' Choice Awards survey winners were selected by our readers, who voted online via our Web site, chicago.staging312.com. The contest featured 11 categories ranging from "Best Web Site" to "Most Innovative Developer" and "Best Luxury Building." We are elated to bring to you the people and places most respected and admired by our Realtor readers who voted to show their support and appreciation for true quality, originality and professionalism.
We sent our Agents' Choice Awards 2006 survey to 16,000 Realtors in the city and the suburbs.Chicago Agent would like to thank Mary Corbett, Phil Burnstine and Melissa Somone for their assistance in the vision and formulation of our survey questions.
Now, enjoy learning who took first prizes and honorable mentions in our gamut of interesting categories in our very first Agents' Choice Awards. >