Going It Alone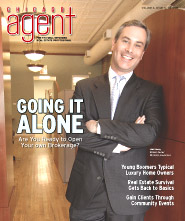 Are You Ready to Open Your own Brokerage?
K.K. Snyder
Have you thought about how great it would be to be your own boss, calling all the shots and keeping 100 percent of the fruits of your labor? Opening your own brokerage means more than just being the boss and pocketing all the money. If you're serious about taking that plunge, it's important  that you do your homework first.
To operate your own brokerage, you must be detail oriented, dedicated and driven. Being a great salesperson is also a necessity, because it enables you to recruit and then train agents to go out and sell for you. If you are an agent opening a brokerage and plan to continue selling, remember that office-based problems can be overwhelming, says Chaz Walters of Sudler Sotheby's International Realty.
"You have to decide if you're going to be an owner-operator or sell," says Walters. "You can't do both effectively, and I decided I just wasn't having fun anymore."
Walters has held his broker's license for 10 yeas and has seen a lot of changes in real estate. When the Coldwell Banker office he worked for was sold to another company, he decided to go it alone by opening Hot Property. Although he enjoyed great success with his own brokerage, Walters soon realized one of the major issues facing small companies: the high cost of advertising when you aren't purchasing high volume.
"I realized [that] to have the service and quality of advertising necessary to carry these types of listings, you've got to be large or able to grow your company quickly," to benefit from the advertising rates available to those purchasing large volumes. Walters recently merged his company with Sudler Sotheby's International Real Estate and enjoys the best of both worlds. He is now one of the owners of a larger brokerage.
After 20 years in the business, Pamela Holt felt there had to be a better way to do business. As the broker associate/managing partner of reChgo (Real Estate Chicago, which opens its offices in July), she's thrilled with the response her company has received since the business began virtual operations in January.
"I'm trying to bring a new spin to the marketing and selling of real estate," says Holt. She recently drew 500 people to an open house when she partnered with a local gallery to exhibit 50 original pieces of art throughout all five floors of the property. Holt also commissioned artists to create new pieces on site during the open house, which also included a silent auction, a cigar roller hand-rolling stogies for the guests and a disc jockey.
Holt has worked with Coldwell Banker, Sotheby's, Century 21 and Rubloff, is an attorney and also has a background in art. She's pleased to be able to bring her expertise in real estate, law and art together in a career she enjoys. Her latest endeavor is "The Real Estate Report with Pam Holt," a radio program that airs three times a day, five days a week on Soul 106.3.
Requirements of the State of Illinois are simple for opening a brokerage. All you need is a valid brokers license, and you can open a one-person shop with little trouble, says Bill Crane, Broker-Owner of EXIT Realty Professionals. And, if you're going to hold earnest monies for consumers, you have to allow the state to audit your bank accounts to insure there is no co-mingling of funds.
"Many people run one-man offices out of their homes," says Crane. "I don't think that is the best way to go, because consumers want to see that you are established and successful before they are going to trust you with the largest investment of their life."
Lauren Lowery, principal of Finders Plus Real Estate, says it's much easier to open a brokerage in Illinois today than in 1993, when she was required to work under another broker before she could even get her own brokers license. Today, coursework for earning brokers licenses includes classes on how to open your own brokerage.
"Now they're basically hand-holding you into opening your own brokerage," she adds.
The price you pay
Opening a real estate office is not cheap. If you want to build an office with a substantial market presence, you must be prepared to invest some money and should not go into it under funded, says Crane. "You need computers, desks, furniture, signage, staff, insurance, attorney fees, realtor association and MLS dues," he says. "Spending over $100,000 just to get started is not that hard to do. Many companies spend a lot more."
A consideration before setting up your business is whether you want to be incorporated, set up an LLC or operate as a sole proprietor. You also need to consider different types of insurance such as errors and omissions, liability and workers compensation if you are going to have employees.
You also need to choose a location carefully. A highly visible and accessible location where you can use a large sign to identify the business is ideal, because it can lead to high client traffic. Some municipalities will let you do almost anything, while others are restrictive, says Crane.
"The ordinances of a town can make things difficult, so make sure you know the local ordinances before purchasing a building or signing a lease or set up some contingencies to protect yourself," he says.
Another option is to purchase a franchise, which allows you to buy into a system. That can make getting started much easier, and might allow you to grow faster than you could on your own. Crane warns though that not all franchises are created equally.
"I bought an EXIT franchise, because EXIT has an amazing system that is built around the agents," he says. "EXIT believes that the agent is the asset and has created a system where agents can earn more than 100 percent without paying desk fees. Agents can also earn residual income as well as retirement income. Besides all that, EXIT has set up the best training programs that I have seen in the industry."
Phil Bowers, one of the founding partner/owners of Platinum Partners Realty, says he's astounded by the amount of growth his company has experienced since they began operations in 2004. With nearly 60 agents in two offices, Platinum is enjoying great success.
"We never dreamed we would have so much success and so much attraction to other agents wanting to join us," he says. The fast growth and management of a large staff have been the biggest challenges thus far, but Bowers says he would never go back to working for someone else.
The founding partners at Platinum held intense planning sessions prior to opening the brokerage and opted to hire a salaried broker with an MBA, Tracee Keyes, to oversee important tasks such as licensing, escrow accounts, a separate operating account and all the legal considerations for the business.
Keyes says one of her challenges is getting individual time for casual one-on-one conversation with each of the agents. She says her success and, in turn, that of Platinum are based on dedication, flexibility and high ethical standards of everyone in the company.
A dose of reality
The main reason a successful agent would want to make a change from being an agent to owning their own brokerage should be a desire to help others achieve his goals. Opening your own brokerage to avoid answering to another broker is not the right reason, accoring to Crane. It's much easier to operate under another broker than to go it on your own. Plus, your personal business may suffer due to the extra work that goes into running an office.
"If you can pass down some of your wisdom and experiences, you will be creating tremendous leverage for yourself," says Crane. "One of the most rewarding things we can do is help others reach their goals. Plus, teachers always learns from their students."
Jon Levey, a developer who became broker owner of RE/MAX Real Estate Advocates in Lincoln Park about a year ago, agrees. "I've surrounded myself with people smarter than I am who work as hard as or harder than I do," he says. "I look at my job as broker agent as a support position to the agents. I'm here to make sure that they all succeed by providing them with the technology, tools and training they need."
Before opening his own brokerage, Levey hired agents to sell his developments. But he soon realized there were things he considered important that weren't getting done. "I would shop my own developments, and I wasn't happy with what I found," says Levey, who focuses on client service. "I decided there was a need for a more 'boutique-y' brokerage."
Levey spent a lot of time researching options before taking the leap. He looked for a platform that would allow his agents to take their careers to the next level and also wanted the national branding. He found what he was looking for in RE/MAX, and now has eight agents with plans to grow to about 35.
"For us it's been great," Levey says. "We're filling a niche in our marketplace with a collaborative of the best and brightest. It's about culture and client service for us, not necessarily about having the most agents in town."
Levey says those considering opening their own brokerage should do three things: do the research, understand your options and ensure that you can fill a void in the market.
Some agents choose to form a team inside of the brokerages they work for, rather than opening their own. Obviously, it's much easier to build a team within an established office than to open your own office. Plus, if you like the franchise you're with and want to stay in the same market area, you simply may have no other option. In most cases, you simply can't open another franchise in the same town, says Crane.
One of the most important tasks for new brokerage owners is branding. Develop it early – some suggest a six-month window – and develop it well, including your logo, business cards, stationary, Web site, signage and the most costly, advertising. While the branding and collateral can get costly, remember it's the first impression your clients will have of you. It's a worthwhile investment.
Walters admits one of the challenges he faced was being able to compete with "the big guys" in terms of advertising. "You have to do a lot of advertising and have a real commitment to spending the money to get these things sold," says Walters. "It's not just putting an ad in the paper once a month. It's every week, and you have to be able to write the checks. It's a very big feat to overcome, unless you have deep pockets or a lot of partners."