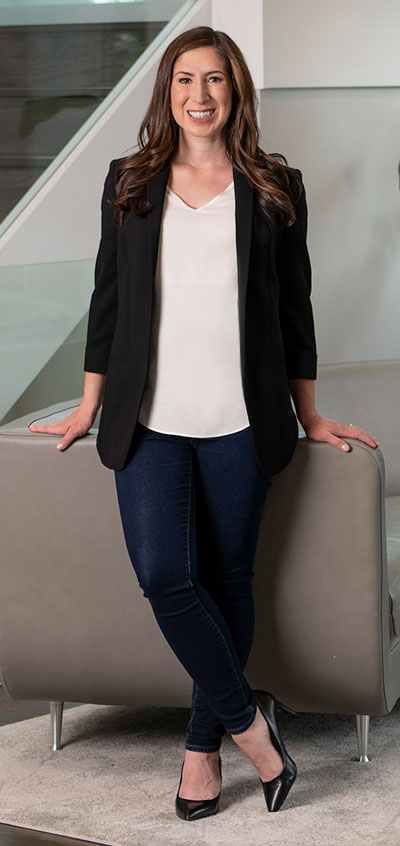 While buying her first condo in 2014, Jennifer Downey Piehl, a real estate broker with @properties, became fascinated with real estate. Even after her purchase was complete, she couldn't stop checking listings, venturing to open houses and keeping her eye on the market.
"I was quickly encouraging my friends to explore buying, keeping in touch with them throughout their buying journey and would pass along the tips I learned. I loved watching my friends achieve homeownership," she says.
She began to see the true value of building equity, as property values around her began to appreciate. It was then she knew: "I wanted to share this with others looking to position themselves for growth through real estate, while loving where they lived," she said.
Utilizing her eight years in health care and industrial safety-supplies product management, overseeing and quarterbacking product lines that generated hundreds of millions of dollars in revenue, she's now quarterbacking real estate transactions. It's no wonder she received @properties' "Outstanding Achievement Award" in both 2018 and 2019 and was named to Chicago Agent magazine Who's Who 2020.
"I guide the buyer and seller through the transaction while coordinating with the other players involved: Attorney, lender, inspector, appraiser, home stager, photographer, etc.," she says.
Last year, the pandemic allowed Piehl to see how she could become more efficient in her business and focus on what matters most, as she was also a new mom faced with the additional challenges of balancing child care and work while keeping safety a top priority for her family and clients.
"My greatest professional accomplishment among the challenges of the past year was maintaining the great service and guidance my clients deserve," she says. "Creating a safe and functional home to work, learn and relax became even more important during the pandemic. It is energizing to see my buyers grow into a new home that better suited their lifestyles and needs during such a challenging year."