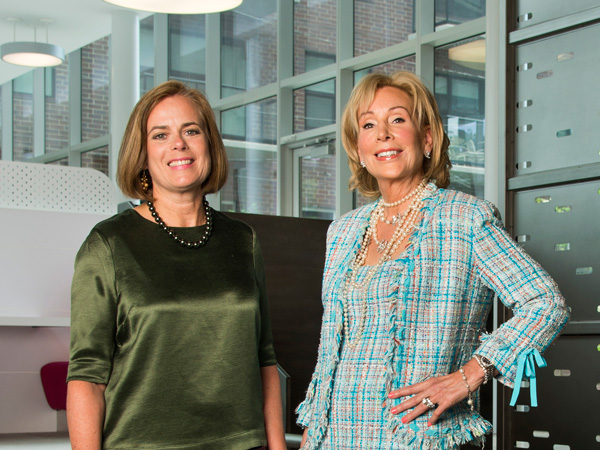 Mary Cook, President/Founder
Sheree Schimmer Valukas, Vice President of Sales
Mary Cook Associates
Mary Cook Associates was founded in 1986. Their work includes both public and private projects. In 2014, with Vice President of Sales Sheree Schimmer Valukas spearheading the sales effort, the firm shattered records for growth, completing 77 model home interiors in 20 states and 11 club interiors including golf, tennis and swim clubs. MCA also designed a variety of other public gathering spaces.
But the crown jewel of the firm's 2014 portfolio is the 100-year-old carriage barn on the former Dupont estate in Newtown, Pennsylvania. Mary Cook Associates transformed it into a stunning, new 7,000-square-foot clubhouse for the residents of the upscale Liseter Farms community.
The firm's work received significant attention. MCA projects were featured in The Wall Street Journal, The New York Times and The Chicago Tribune.
On the boards to open in 2015, along with scores of model home interiors, are The Lake Geneva Yacht club, Evanston Golf Club Pool Complex, The Glenview Golf Club and a renovation of the Hyde Park Tower.
To accommodate the explosive growth, MCA moved their offices to a brand new loft-style space that's flooded with natural light and built-out into the perfect environment to inspire creativity, enhance productivity and further elevate the company's work.
The foundation of the company's success lies in their unique ability to deliver successful designs for their clients. Mary Cook Associates accomplishes this by adhering to Founder and President Mary Cook's basic principles that are common to all good design, collectively called "The Art of Space." It is also the title of her book, which was released in 2014.
"Great interior design can actually improve the quality of life for the people who experience it. That's how we define 'successful' design," said Cook.
But that's just the beginning of The Art of Space. Unique to Mary Cook Associates' work is what they call "ROE," or "Return On Environment." They believe that clients can, and should, get measurable, tangible results from interior design; results such as increases in sales, memberships, real estate values, etc.
"Business runs on results. By introducing tangible results to the world of interior design, we've taken a revolutionary step," said Valukas. "Our designs meet specific needs, objectives and budgets. And they get the results our clients want."
Armed with this powerful approach to the world of design, Valukas continues to attract high caliber clients to the firm.
Cook plans to continue to share The Art of Space with everyone from students to professionals to unleash the true power of interior design.