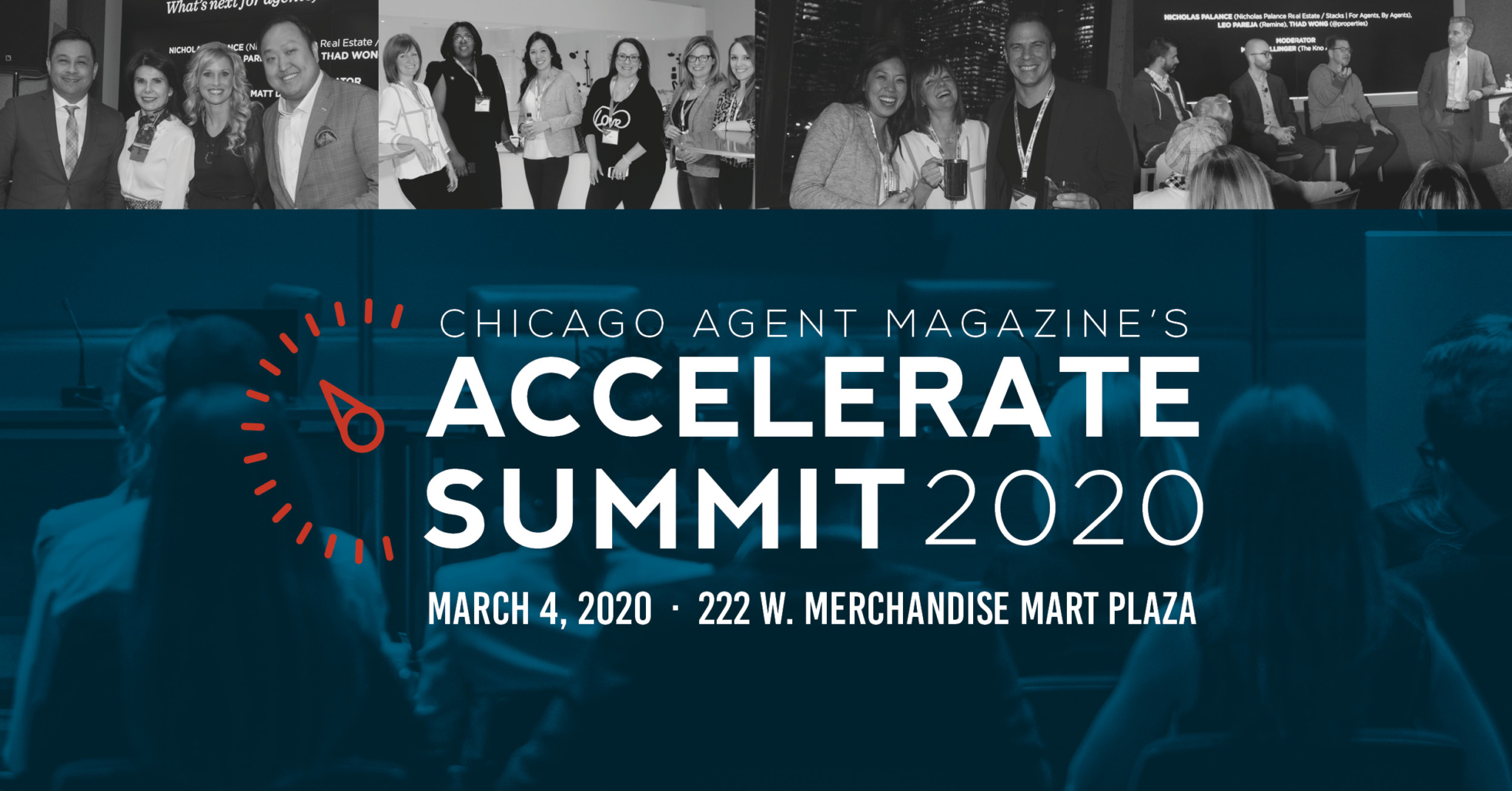 After a successful first year in 2019, Chicago Agent magazine is bringing back its networking and educational event for real estate professionals next month. Registration is now open for the 2020 Accelerate Summit, taking place at the Merchandise Mart on March 4.
Also returning this year is Chase Bank, which has picked up the platinum sponsorship spot for the event for the second year in a row. "The feeling at last year's summit was so electric that we're really just excited to be back again this year," said Maxwell W. Koziol, executive director of home lending at Chase Bank. "What brought us together in the first place was the fact that Chase and Chicago Agent magazine share a common vision of strengthening the communities in which we live and work, and that is still true in 2020."
The purpose of the summit is to help agents and brokers prepare for a particularly challenging spring season, as the competition for leads, listings and the attention of buyers and sellers heats up across Chicagoland. "We're so excited to invite Chicagoland agents and brokers back to the summit this year," said Anne Hartnett, managing partner of Agent Publishing. "We found last year that attendees were really representative of that so-called 20 percent of folks who are driven to take their careers to the next level, and we're ready to deliver the tools to make that possible."
The summit will kick off with the opening session "Success is not an accident: Expanding your business on purpose" by American Advisors Group's Ryan Ponsford. The breakout sessions will cover a wide range of topics, including advice from top producers, disruptive factors in real estate and digital marketing techniques. The day-long event will end with a keynote session from Ohio-based speaker and real estate coach, Sherri Johnson. More details about the schedule are available here.
Summit registration will be restricted to licensed real estate professionals, which organizers said will result in programming tailored to working agents and brokers. "There will be a lot of actionable takeaways," Hartnett said. "We're confident attendees will return to the office with fresh ideas on how to be more impactful sales leaders."
Once again, organizers intentionally avoided the trappings of a conference, leaving the traditional expo hall out of their plans altogether. "We want attendees to engage with speakers, vendors and each other in a more informal atmosphere, so learning and networking come easier," said Hartnett. "It's important to be engaged, and that's easier to do when you're all in the room together."
Companies joining platinum sponsor Chase to support this year's summit include Draper and Kramer, Guaranteed Rate, Wells Fargo, Citibank, Baird & Warner, Rick Levin & Associates and AgentEDU.