Existing-home sales were one step forward and one step back, according to a report from the National Association of Realtors, which showed a slight decline in November. That followed a report of home sales growth in October, according to the association. Sales declined in the South and West in November, while Northeast and Midwest markets both reported growth, NAR noted.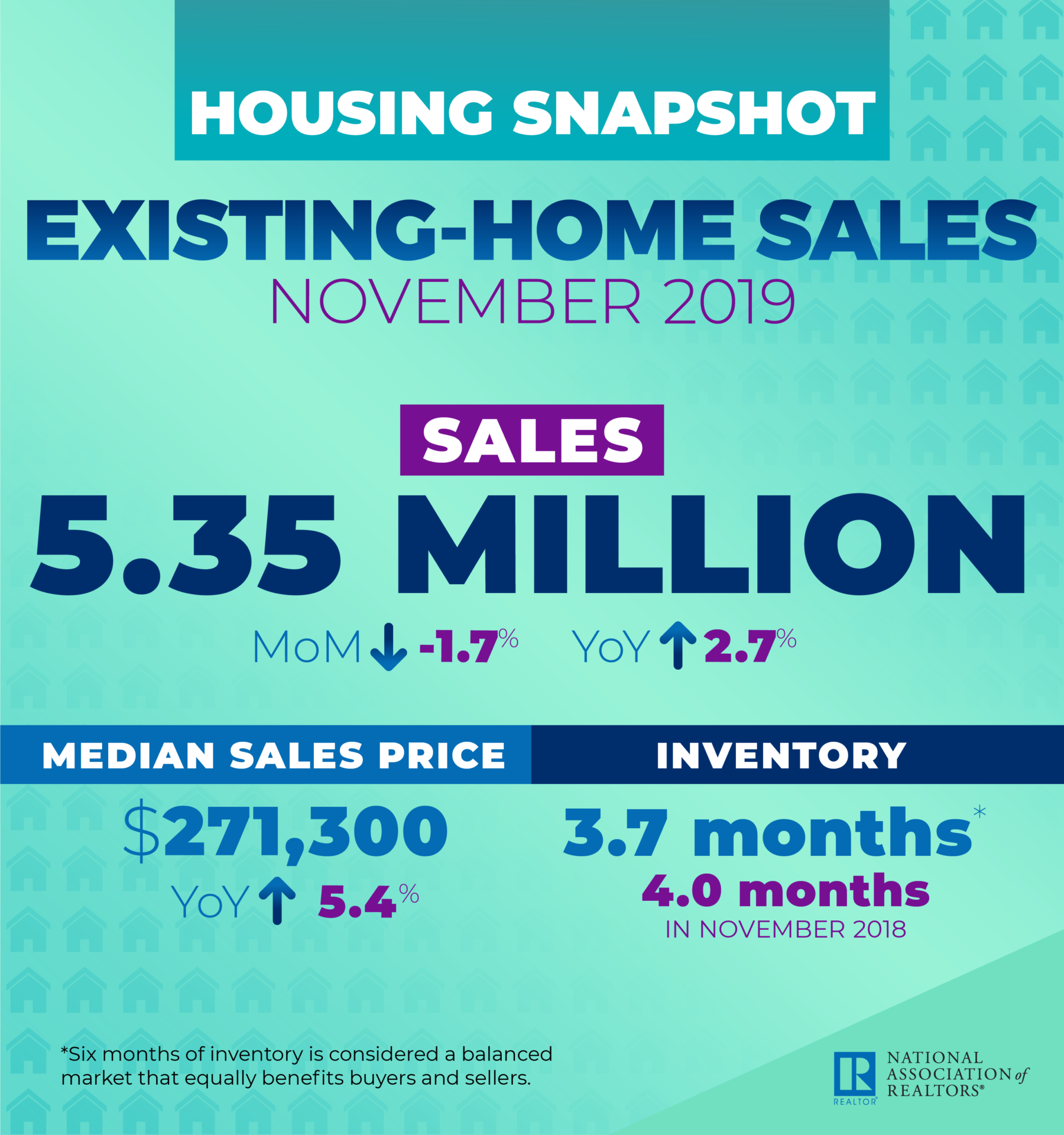 Existing-home sales dropped 1.7 percent in November from the previous month to a seasonally adjusted rate of 5.35 million. Sales were up from November 2018, though, by 2.7 percent.
"Sales will still be choppy when inventory levels are low, but the economy is otherwise performing very well with more than 2 million job gains in the past year," NAR Chief Economist Lawrence Yun said in a press release.
Existing-home sales in the Midwest increased 2.3 percent to an annual rate of 1.32 million and were up 1.5 percent from the previous year. The median price in the region was $209,700, up 5.9 percent from November 2018.
Unfortunately, that activity did not translate to Chicagoland. In Illinois, home sales were down 7.1 percent year over year. Sales decreased even more sharply in the nine-county Chicago metro area, down 7.6 percent over this time last year. And in the city, the slowdown was even more severe, with a 10.4 percent year-over-year decline.
According to Illinois Realtors, which also released November data today, the combination of lower inventory levels heading into winter and higher prices were troublesome for house hunters. "Homebuyers were confronted with the dual challenges of diminished inventory and slightly higher prices in many portions of the state," said Ed Neaves, president of Illinois Realtors and designated managing broker of Berkshire Hathaway HomeServices Snyder Real Estate in Bloomington.
Nationally, the median existing-home price was $271,300 for all housing types, an increase of 5.4 percent from November 2018. That makes 93 straight months of year-over-year gains. Locally, median prices in November were up 3.4 percent year over year in Chicagoland, 5.3 percent statewide, and 3.2 percent in the city.
Supply problems weren't just plaguing the local market — housing inventory was down at the end of November with a reported total of 1.64 million units. That's a decline of 7.3 percent from the previous month and 5.7 percent from November 2018.
Unsold inventory was at a 3.7-month supply in November, a decline from 3.9 months in October and from 4 months in November 2018.
"The new home construction seems to be coming to the market, but we are still not seeing the amount of construction needed to solve the housing shortage," Yun said. "It is time for builders to be innovative and creative, possibly incorporating more factory-made modules to make houses affordable rather than building homes all on-site."