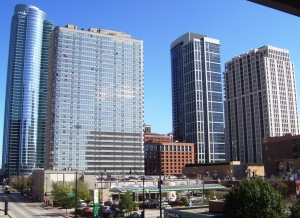 Another mega-project on the South Side?
Landmark Development plans to create a multibillion-dollar development straddling a set of railroad tracks near Soldier Field and McCormick Place. The initial plans are to build millions of square feet of residential, office, retail and meeting space above the Metra Electric train tracks between McFetridge Drive and 20th Street. The development would be built on platforms on top of 34 acres of air rights owned by Chicago developer Gerald Fogelson. While the developer has presented plans to 3rd Ward Alderman Pat Dowell, among other city officials, no formal plans have been presented to the city. A public meeting is planned for March 13 to discuss the project.
The rumblings of this new project come on the heels of other large pieces of land slated for development nearby. The redevelopment of the 49-acre former Michael Reese Hospital site, if completed, would combine the space with other nearby land and merge them into a large mixed-use development called the Burnham Lakefront. Also, The 78, which would link the South Loop to Chinatown, is directly west of Landmark's planned project. There, Related Midwest plans to create a 62-acre mixed-use district that would become the city's 78th community area.
Lincoln Yards scores commission approval
Sterling Bay's massive North Side development project won a 10-0 vote Tuesday from the Community Development Commission. The Chicago Tribune reported this week that the mayor-appointed panel supported the creation of the Cortland/Chicago River TIF district to fund infrastructure development in the area. This may grant as much as $900 million in tax increment financing that would help pay for new roads, bridges and public transportation in and around the site.
While this represents another hurdle cleared for Sterling Bay, the TIF district and the larger Lincoln Yards plan still face a vote before the full City Council. Outgoing mayor Rahm Emanuel and 2nd Ward Alderman Brian Hopkins have both given their backing to the multibillion-dollar project's plans as they stand.
Hopkins also said Lincoln Yards is in need of infrastructure improvements, noting that "there are numerous companies interested in moving to Chicago, and all they need is a corporate campus to put those workers on."
Plans call for 15 million square feet of office and residential buildings, along with retail and restaurant space.
Chicago's most expensive listing returns… $5M cheaper
Chicago's most expensive listing of 2016 has returned with a $5 million price cut. The record-setting home was initially listed at $50 million but has now gone back on the market for $45 million. Despite the hefty drop in price, no other listing the city comes close to its asking price. The listing price is still asking more than twice the amount of the city's next most expensive home. The asking price is also more than double the $19.36 million property value assessed by Cook County. The Parillos' plan is to try to recoup the $45 million of investments put into the home over the past decade, according to Crain's.
The Lincoln Park mansion, owned by founder of Parrillo, Weiss, & O'Halloran, Richard Parrillo and his wife Michaela, has six bedrooms, 11 bathrooms, 25,000 square feet of living space and spans more than eight standard city lots. The mansion also boasts unique features such as a driveway made with gravel imported from France and a fully custom interior complete with ornate stone, wood and plaster details.