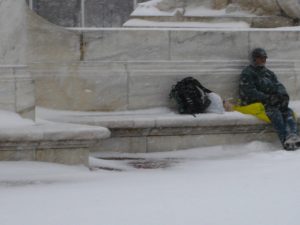 Last week, as Chicago experienced its coldest temperatures in decades, Candice Payne, a managing broker at 5th Group Realty & Management in Beverly, may have saved lives. More than 100 of Chicago's homeless were directly exposed to temperatures as low as 22 degrees below zero on Jan. 30. Payne and her husband knew those without shelter were in for a rough few days and set to work finding a safe, warm place for as many as possible.
Initially at their own expense, the couple booked 20 hotel rooms at the Amber Inn in Bronzeville for inhabitants of "Tent City," a homeless encampment just southwest of Downtown.
Payne's decision to help was spontaneous. "I knew they were going to be sleeping on ice and I had to do something," she told the New York Times.
While many of these residents chose to follow Payne, many initially did not, and elected to stay warm with the help of propane heaters. An explosion of a propane tank at the camp led to the removal of remaining tanks by the fire department. Following the explosion, Payne returned to the encampment to collect the remaining few inhabitants and, through donations obtained from a social media campaign, she found them rooms at the Amber Inn.
As the record cold snap was subsiding on Thursday, Payne had procured 60 rooms for a four night stay, taking up a majority of the motel. Along with money for the rooms, donors contributed food, coats and other winter gear to help those at risk against the weather.
In a survey released in May, 2018 by the Chicago Coalition for the Homeless, census data showed that there were over 80,000 homeless Chicagoans in 2016. One bill proposed to fight this problem was presented back in Oct. 2018. The ordained 'mansion tax' intended to increase the current real estate transfer tax by 160 percent on properties over $1 million. An estimated $150 million a year would have been dedicated to offering various services to the homeless, including affordable housing. However, on Oct. 31 Mayor Rahm Emanuel rejected the bill, telling the Chicago Sun-Times to, "separate the issue of homelessness. I agree with those aspirations. I disagree with the methods because I don't think the first line of defense should be the homeowner's pocket."