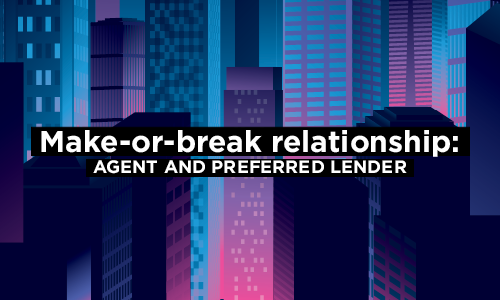 A trusted preferred lender can be a major difference maker for an agent's business. Just ask Baird & Warner agent Maureen Barrett.
In her 13-plus years in the business, Barrett has worked with many lenders whom her clients have found on their own, but only one who she brings to them: Key Mortgage's Kevin Napoleon.
A few months into Barrett's career in the industry, the pair met the way loan officers and agents meet so often: an exchange of business cards at an industry event followed by an exchange of pleasantries and a casual "let's keep in touch."
Napoleon meant it.
"Every time I called him in the early days, no matter what time of day I called, regardless of the price of the property, he'd take my call and treat the customers equally," Barrett recalls.
If a buyer's credit is questionable, Napoleon is not shy about telling them and working on a solution, Barrett says. "He doesn't give up on people."
The relationship works both ways, Napoleon says.
"She looks out for her clients, even when it doesn't lead to a commission," Napoleon says, noting that Barrett uses a natural intuition to learn what a buyer's real goals are — even if they haven't been clearly articulated. He recalls that she's steered buyers away from a home she knows they may not really want, even before the buyer themselves knew it.
"That's unusual," he says. "I've worked with around 40 agents and she's unusual in that she starts from a buyer's goals and cares more about those than she does about the next closing."
It's a quality that leads to a trusting business relationship. And the trust is mutual, Napoleon says. He recalls a recent instance in which a self-employed buyer who hadn't bought a house in decades and ran into complications compiling the necessary income verification documents. Late one night, with the seller threatening to walk away from the deal, Napoleon went to the buyer's residence, sat down at the kitchen table and walked the buyer through what was needed to make the purchase happen.
"I did that because Maureen was involved," he says.
Just over a year ago, after working for a series of regional and national banks, Napoleon joined Key Mortgage, which is owned by Baird & Warner and pairs agents with lenders. It was a surprise to Barrett, who'd mentioned a few times that the move might make sense.
Did he make the move for the same reason he drove to that buyer's home to help save a transaction? He wouldn't say, but he did say this: "Maureen being with Baird & Warner didn't hurt."