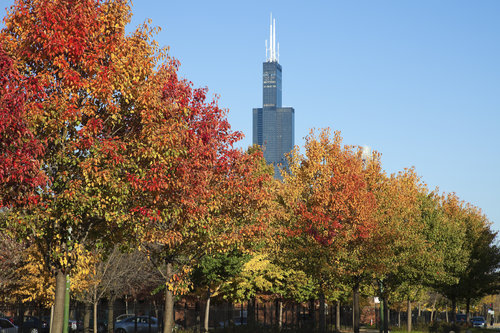 Although Chicagoland home sales slowed down in September, there was a slight rebound in October, inspiring optimism as the real estate industry enters the holiday season.
According to RE/MAX Northern Illinois, total home sales in the Chicagoland metro area were down 0.4 percent, from 8,931 units sold in October 2017 to 8,896 units sold in October 2018. Home sales are moving just a bit faster: The average market time in October was 72 days, down two days from last year.
"Looking at the October numbers in their historical context, it's clear how relatively strong the market is today," said Jeff LaGrange, vice president of the RE/MAX Northern Illinois region. "Overall, it's fair to say that this October is better than any we've seen since 2006 at the peak of the housing boom when there were 9,044 sales, a median price of $244,900 and an average market time of 94 days."
The median home sales price in the Chicagoland metro was $230,850, up 3.1 percent from last October. However, first-time homebuyers and those looking for entry-level homes are continuing to face difficulties. Rising home prices across the area means that homes selling for less than $200,000 are on the decline, with a 7.2 percent drop to 3,553 units sold.
"Interest rates have been rising, and the buyers most impacted by that and by rising home prices are first-timers purchasing at the low end of the price spectrum," said LaGrange. "We're seeing that play out in the current sales results. Meanwhile, the number of homes selling for $200,000 or more was up 3.8 percent in October, and sales of homes selling at $1 million or more climbed 14.5 percent."
Metro Chicago Real Estate Market Home Sales
October 2018 vs October 2017
10/18 Total Sales
% Change
10/18 Detatched Sales
% Change
10/18 Attached Sales
% Change
Metro Chicago
8,896
-0.4%
5,649
0.5%
3,247
 -1.9%
Cook
4,849
-1.8%
2,737
-0.8%
2,112
-3.1%
DuPage
1,066
-0.6%
635
 -5.4%
431
7.5%
Kane
560
-9.2%
427
-7.6%
133
-14.2%
Kendall
188
2.7%
137
4.6%
51
-1.9%
Lake
856
5.8%
657
11.5%
199
-9.5%
McHenry
477
8.2%
381
9.2%
96
4.3%
Will
900
3.4%
675
2.6%
225
6.1%
Chicago
2,072
-0.5%
901
3.3%
1,171
-3.3%