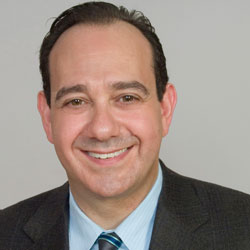 What was your first job in the realty industry? This is my first job in real estate, but I was previously a bond trader for over 15 years, and had many mortgage brokers, banks and mortgage funds as clients.
Where did you grow up? I was born in Massapequa, New York, and moved to Fort Lauderdale, Florida, later.
Growing up, what did you want to be? I've always been a very "urban" person, and enjoy the mixing of different cultures and styles. I really fell in love with Chicago the first time I visited, when I was 14, and so eventually came back for college and all the time since.
What do you do to relax when you're stressed? I love to read, listen to music (recorded or live) and cook a great meal when stressed. If I have the time, traveling is also incredibly relaxing to me, and very rewarding in all aspects.
If you could have lunch with a well-known figure (living or not), who would it be and why? I would have lunch with Warren Buffett if I could. He is the epitome of success, while also remaining grounded and remembering what's important. I'd really like to learn more about his habits and insights regarding balance and life.
Where is your favorite place to hang out? My favorite place to hang out is the lakeshore. Whether relaxing on the beach, walking through the park, watching fireworks, hearing live music or exercising, the view is so beautiful and really enhances every experience.
What do you love most about the industry? I love being able to help people each and every day in a very concrete and important way. The industry and job allow me to combine my investment background with organizational and social skills in ways that just aren't possible in other industries.
How do you distinguish yourself from the crowd of agents? Honestly, I don't really pay too much attention to what others are doing. I think being yourself, always putting your clients first and having integrity are the most important elements of what I do. I'm eager to watch and learn about new technology and ways of providing service, but will always incorporate those things in my own way, and not just copy what's been successful for others.
What is the most difficult aspect of your job? The most difficult aspect of my job is finding ways to accept all of the portions of the transaction that are beyond your control. There are many different people, rules and roadblocks involved that an agent must find a way to navigate, and often insulate their client from as much as possible.
Where do you go to network and meet new clients? Most of my clients are referrals from prior clients, friends and associates. I attend meetings of various real estate investment groups in Chicago as well where I meet many potential clients.
What has been your greatest accomplishment? My greatest accomplishment has been touching the lives of others, even in small ways. I have always been involved in various causes, educational and charitable, and really enjoy doing so. Being a real estate agent also is a big part of this as well.
What was the last good movie you saw or book you read? Recently, I saw "Won't You be My Neighbor?" which was a documentary about the life of Fred Rogers. Very moving portrait where you get to see so much more than what was on the surface. He was a true rebel and fought against racism and injustice.
What is your favorite restaurant? Parachute: amazing Korean fusion.
Architecturally speaking, what is your favorite building in Chicago? The Rookery, just amazing and unique, from the color to the history.
What kind of car do you drive? A Tesla Roadster and a Toyota Corolla.
Smartphone or paper? Smartphone!
What is your favorite city after Chicago? New Orleans.
In 10 words or less, what is your advice for someone new to the industry? Make a plan, execute that plan and give it time.
What's your favorite real estate iPhone/Android app? ShowingTime and Docusign.
Who are your favorite people to follow on Twitter? Green City Market, Tesla, Elon Musk.