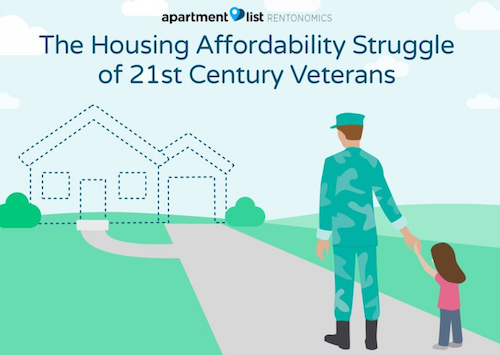 With more than 20 million U.S. military veterans in the United States today, it's important to recognize the specific challenges that they face when they reenter the job and housing markets as they return home. A new study from Apartment List found that while veterans overall have higher homeownership rates and lower housing cost burdens compared to non-veterans, younger veterans are facing tougher challenges in the market.
Currently, 76 percent of veteran households own their own homes, compared to 62 percent of non-veteran households. Almost one third of non-veterans pay more than 30 percent of their income toward housing expenses, while less than a quarter of vets do. In fact, vets are more than 30 percent less likely to be spending more than half of their income on housing costs than non-vets.
The reasons behind this largely have to do with federal policies and loans, such as VA loans and GI bills, which support homeownership among veterans.


However, the study found that post-9/11 veterans are 5 percent less likely than comparable non-veterans to be able to afford a home. And almost 35 percent of post 9/11 veterans are cost burdened and are less likely than prior veteran generations to own a home.
"Despite having broad access to zero-down mortgages with favorable rates through the VA loan program, fewer than half of post 9/11 veterans own their home," the study found.
Many home developers have been providing their time and expertise in order to fill the gap by helping build homes for military families and provide mortgage-free homes.
Operation: Coming Home is a volunteer organization from the Home Builders Association of Raleigh-Wake County and the U.S. Veterans Corps and Mattamy Homes, that builds new, mortgage-free homes for families.
Building Homes for Heroes and Habitat for Humanity's Veterans Build are other programs that are working to build or modify homes for veterans that is constantly in high demand. Building Homes for Heroes averages 30 homes a year, while Habitat for Humanity's program built more than 180 homes last year.
"The need for this type of housing is incredibly huge," Kim Valdyke, director of construction at Building Homes for Heroes, told BuilderOnline. "I think we have over 5,000 applicants in our database."
Even when controlling for demographic changes over time, post 9/11 veterans are having a harder time with homeownership. Post 9/11 veterans are 5 percent less likely to afford their housing costs compared to non-veterans, compared with Gulf War veterans who are 25 percent more likely to afford housing costs and Vietnam veterans who are 10 percent more likely.
When looking at demographics, Apartment List found that post 9/11 veterans are on par with non-veterans in the same age and race group, while veterans from previous generations were more likely to own a home. This shows that policy changes need to occur to benefit modern veterans.
"First, policy wishing to support veteran homeownership in the 21st century should account for the unique challenges that underrepresented minorities face in housing markets," Apartment List stated. "Second, post 9/11 veterans' struggle to find affordable housing is not driven by the fact that more young veterans are being pushed into or out of the rental market."