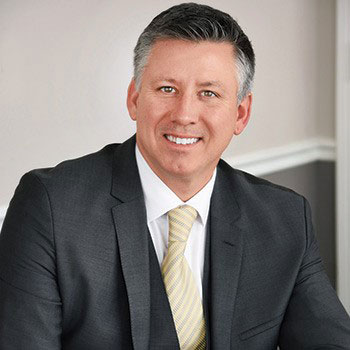 What was your first job in the realty industry? I started at RE/MAX Exclusive Properties on a team in 2001. I then ventured off on my own to join an up-and-coming company called @properties in 2002. I was fortunate to be one of the "founding agents."
Where did you grow up? I was born and raised primarily in Chicago in Lincoln Park and Lakeview. As a kid, we moved to Los Angeles, Seattle and Memphis before returning home to Chicago in fourth grade.
Growing up, what did you want to be? Like most boys, I wanted to be a cowboy, later a professional football player, but realized I was too slow for the NFL! In eighth grade, I was the publisher/editor of our school newspaper at Nettelhorst Elementary and knew my future was in broadcast journalism. I was fortunate to fulfill a dream of being "on air" in Chicago at Q101, The Mix and The Zone while also working for ABC and CBS.
What do you do to relax when you're stressed? I try to work out every day. This gets my blood pumping and gives me energy to take on the day. In essence, this helps me stay focused and relaxed on each task at hand. I also pray constantly and believe you have to nourish your soul always by reading motivational books on faith, family and leadership. I'm always looking to improve myself, learning how to be a better man, a better husband and better father.
If you could have lunch with a well-known figure (living or not), who would it be and why? Martin Luther King, Jr, Bono and Elon Musk. MLK for his strong faith in the face of adversity. Bono for his storytelling and songs that truly are the soundtrack to my life. U2 is my all-time favorite band. Elon Musk for his creative and scientific mind. I have three friends that own a Tesla, and they are a fascinating piece of technology.
Where is your favorite place to hang out? Wrigley Field and Wrigleyville. As a kid who grew up at Addison and Lake Shore Drive in high school, I've seen the neighborhood transform into an entertainment mecca for the 21st century. Some purists may hate it, but I love the development.
What do you love most about the industry? The relationships. We have built our business by referral. Ninety percent of our business is from past clients, friends and colleagues.
How do you distinguish yourself from the crowd of agents? My background in broadcast/journalism gives us a competitive edge in direct marketing to reach the right home buyer based on demographics and sociographic research. I also obtained my appraiser's license in 2007 to understand the art and science behind real estate appraisals. This helps us with accurate pricing and true market value. I also know how to present a case to an appraiser when we receive above list price offers in a bidding war.
What is the most difficult aspect of your job? Time management. I understand that I could be an agent who works 80 hours a week and have no life. That is no life at all. I have learned to trust others and let go and surround myself with great people to assist me in focusing on each client's needs.
Where do you go to network and meet new clients? I attend many networking events in the city. I volunteer as a sports coach for our eight year old twin boys football and basketball team. My wife and I volunteer at our church, we belong to Rolling Green Country Club, we are also members of the Arlington Heights Chamber of Commerce to help us grow our northwest suburban business. We believe in building relationships one at a time.
What has been your greatest accomplishment? My family. I'm proud of my 22-year-old daughter Kailie who is a "driven leader" and just graduated from the University of Wisconsin. My daughter Grace has a big heart and full of creativity. She's going into her junior year at St. Ignatius. And our twin boys Joshua and Levi, who are striving for excellence in the classroom and on the lacrosse field. Most importantly, they are blessed by a mother who teaches them to read constantly, treat others with respect and kindness and to be men of integrity.
What was the last good movie you saw or book you read? "Incredibles 2." It really could be our family story. My wife is a true superhero like "Elasticagirl," my 16-year-old daughter Grace is Violet, my 8-year-old Levi is Dash and his twin Joshua has a little Jack Jack in him.
What is your favorite restaurant?
Breakfast: Toast.
Lunch: R.J. Grunts.
Dinner: Bavette's Bar and Boeuf.
Architecturally speaking, what is your favorite building in Chicago? That's a tough question. If you go modern, I would go with Aqua. Classic architecture: I would say Tribune Tower.
What kind of car do you drive? Jeep Grand Cherokee.
Smartphone or paper? Smartphone.
What is your favorite city after Chicago? Austin, Texas.
In 10 words or less, what is your advice for someone new to the industry? Be yourself. Dream big. Set goals. Execute.
What's your favorite real estate iPhone/Android app? @properties' agent app. You have to be here to get it. I appreciate the ease and ability to communicate with other for open houses, pocket listings, coverage, buyer needs, vendor help, etc. It truly is an amazing tool.
Who are your favorite people to follow on Twitter? Kyle Brandt, Good Morning Football on the NFL network. He's hilarious. Jason Chan, Chicago restaurant guru and anything Elon Musk tweets gives me rocket fuel.