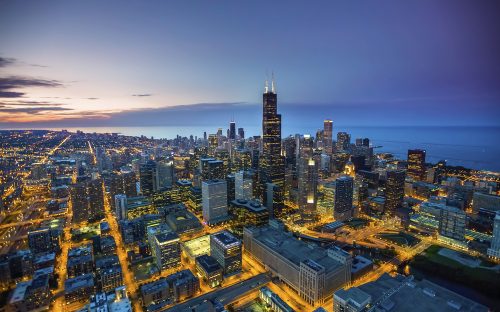 In a single session on Oct. 31, Chicago City Council approved four centrally located developments that would together add approximately 7,000 new housing units, 1,200 hotel rooms and 2 million square feet of new office space downtown, the Chicago Sun-Times reported. On the same day, according to NBC 5, City Council unanimously approved the Obama Presidential Center and Museum slated for construction in Jackson Park, despite a federal lawsuit still pending against it.
The approvals signal that the city's construction boom should continue into 2019 and beyond, marking another phase in the evolution of Chicago's skyline. The four downtown projects approved Wednesday include:
Revised plans for two new developments surrounding Union Station — one of them a 50-story office tower to be built on an Amtrak-owned lot south of the station itself, and another to add a new top floor to the station's "Head House" containing a hotel.
Three new towers at Lakeshore East, on the northeast corner south of where the Chicago River meets Lake Michigan, which would top out at 40, 50 and 80 stories, and include a public park.
A 455-foot tall office tower built on top of a former firehouse in River North.
Plans for a $2.5 billion, 14-building development called North Point on land currently owned by Tribune Media along the Chicago River just northwest of downtown that could be the site of the highly anticipated Amazon HQ2. The development would also add more than 4,000 new residential units.
"We're taking care of business here in the city of Chicago," Mayor Rahm Emanuel said in a news conference after the City Council meeting, according to the Sun-Times. "My goal has always been about creating economic growth and job creation."
The approval surrounding the Obama Presidential Center effectively cleared the way for another development that is expected to bring economic growth to the city's South Side, including "thousands upon thousands of jobs" according to Mayor Emanuel. City officials expect ground to break on the 19.3-acre site early next year, even though a federal judge recently ruled that construction cannot proceed until lawsuit filed by Protect Our Parks is settled by trial or otherwise. NBC 5 reports that a trial date should be announced next month.
Each of the approved developments has wound its way through the city's legislative process for years, and besides the Obama Center, many still face significant hurdles to completion. The North Point development, for example, would necessitate a major overhaul of the area's existing transportation network, according to 27th Ward Alderman Walter Burnett. The Chicago Department of Transportation "pushed hard" for those improvements as part of the plans, the Sun-Times reported, but the project still lacks a commitment from developers, making officials nervous.
"It's like I'm dealing with a ghost or something," Ald. Burnett said, according to the Sun-Times.