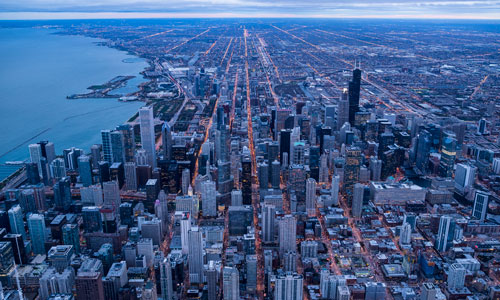 A crash in home values brought on by the recession resulted in more mortgage borrowers falling "underwater" on their home loans, or owing more in total debt than their homes were worth. But by the second half of 2018, most major housing markets had returned to normal in that regard thanks to a swift recovery in home values. The metro Chicago area, however, remains one of the biggest exceptions to that trend.
As of Q2 2018, 8.7 percent of Chicago-area home loans were considered underwater, according to data from CoreLogic. That was more than twice the national rate at the time, at 4.3 percent.
Miami is the only top-10 metro area to see a higher rate of underwater home loans, with much of them attributed to a bad hurricane season in 2017. Chicago, of course, can't blame a natural disaster for its mortgage debt problem. In six of the 10 biggest metros, the underwater rate is a fraction of Chicago's, at less than 2 percent.
Instead, the storm that has plagued Chicago mortgages in the wake of the recession is an economic one. As Crain's Chicago Business pointed out, the problem has been exacerbated by sluggish employment growth and a steady population decline that is also unmatched in most other large American cities. Chicago's largest enclaves of homeowners, located in the outer suburbs, are losing residents and money to either more central areas of the city, or a different city entirely.
According to housing economists like Geoff Smith from DePaul University's Institute for Housing Studies, this pervasive trend will continue to depress Chicago's overall housing market.
"This is holding back Chicago from being a fully functioning real estate market," Smith told Crain's. "People who are underwater can't participate in the housing market, and that has a ripple effect," reducing both the demand for and supply of homes in the area.
As of June, CoreLogic counted 116,900 underwater mortgage borrowers in the Chicago area, more than were reported in New York, Los Angeles and Boston combined. The average Chicago homeowner at that time saw a one-year equity gain of just over $10,000, the report estimated. Meanwhile, San Francisco homeowners gained more than $145,000 in equity over the same period.