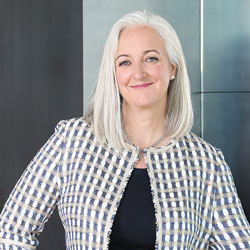 What was your first job in the realty industry? Leasing agent for a large management company.
Where did you grow up? Glenview.
Growing up, what did you want to be? Fashion merchandiser.
What do you do to relax when you're stressed? Go to the dog park or beach.
If you could have lunch with a well-known figure (living or not), who would it be and why? Eleanor Roosevelt. She was a champion for women's rights and social justice. A real inspiration.
Where is your favorite place to hang out? My neighborhood when I am not traveling for work.
What do you love most about the industry? I never have the same day twice.
How do you distinguish yourself from the crowd of agents? I have a very specific niche in the market where I work on large-scale, new construction, for-sale developments. There are not many people who do what I do.
What is the most difficult aspect of your job? Constantly staying ahead of the curve for sales and marketing tools, and making sure that we are on the cutting edge.
Where do you go to network and meet new clients? Our clients are developers. We are referred by past clients, team members like architects, construction companies and advisers, as well as construction lenders.
What has been your greatest accomplishment? Yet to be done.
What was the last good movie you saw or book you read? "Deadpool 2."
What is your favorite restaurant? Hard to choose when surrounded by some of the best in the country, so I will say my kitchen.
Architecturally speaking, what is your favorite building in Chicago? The Carbide and Carbon Building.
What kind of car do you drive? I try not to drive if at all possible, but our Mercedes convertible is fun.
Smartphone or paper? I need both.
In 10 words or less, what is your advice for someone new to the industry? Find a mentor and attend every open house you can.
What's your favorite real estate iPhone/Android app? My calculator.