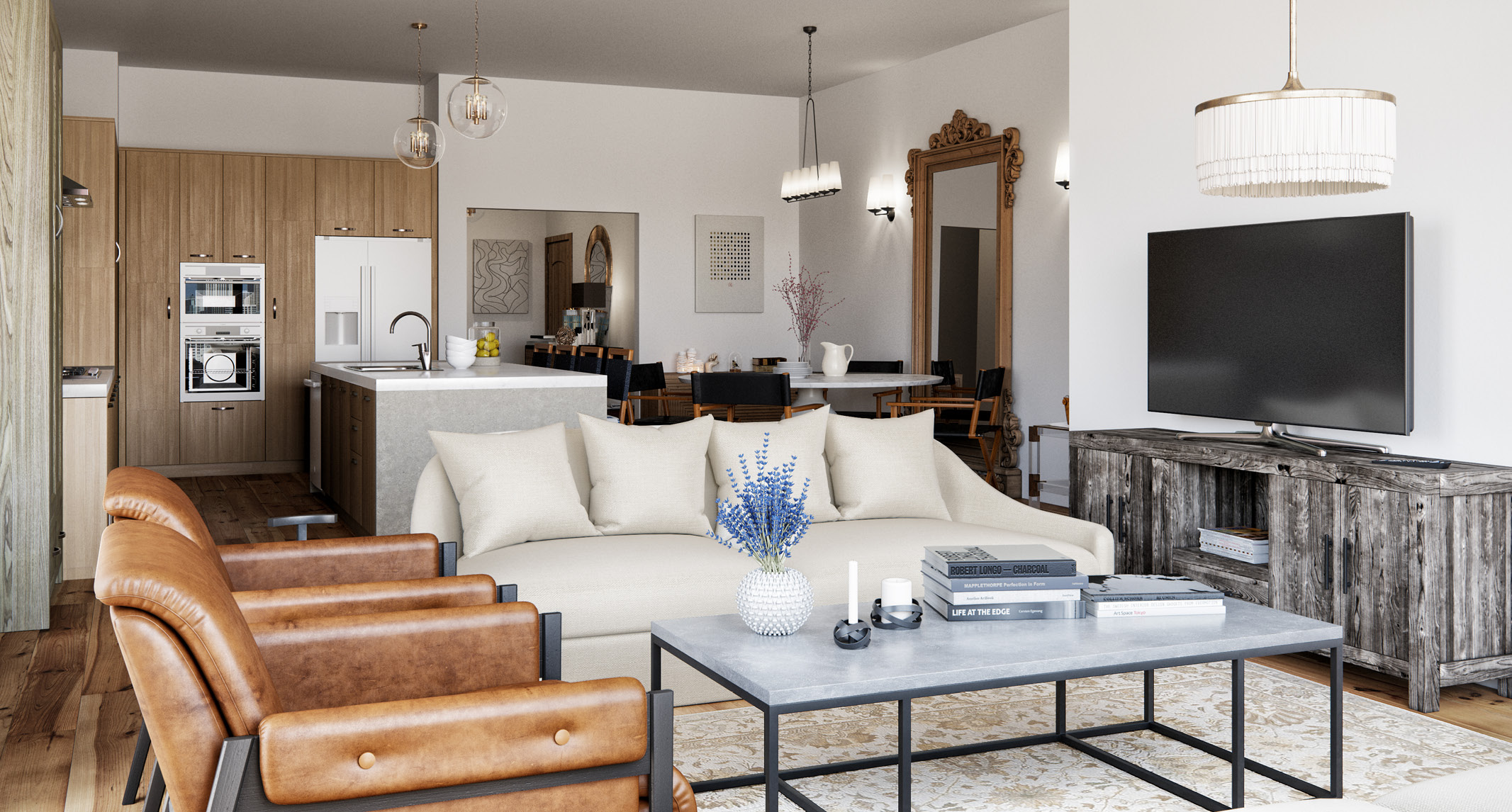 In the heart of Wicker Park, widely known as a hotspot for local dining, entertainment and culture, a dilapidated parking lot located near the intersection of Milwaukee Avenue, Division and Paulina streets is experiencing a major makeover.
Vermilion Development has planned Alcove M.D.P., a seven-story mix of condos, townhomes and duplexes at 1648 to 1650 W. Division Street. It is expected to be the largest property to go up in the neighborhood since 2007. The Alcove M.D.P. is just the latest example of the firm's impressive ability to uncover neighborhood parcels that are well-located but underutilized or even destroyed.
"We look to unlock the value of these parcels and contribute to the vitality that attracted us in the first place, while minimizing displacement or teardowns of much loved neighborhood buildings," says development manager Ari Parritz, adding that the company built a winning development in Lakeview on the site of a former gas station. "Vermilion has achieved success by focusing on the right projects in the right areas at the right times. Our projects are designed, constructed and managed by the best teams we can assemble. And our partners and investors keep coming back."
Vermilion will break ground on Alcove M.D.P. this summer and deliver units by early fall of 2019.
The name Alcove M.D.P. is a nod to the streets surrounding the development's secluded location, which is, according to its tagline, "Out of sight, top of mind," in bustling Wicker Park. In this small, private community, residents can walk out their front doors and be steps away from hotels, art galleries, theatres, restaurants and an abundance of shopping. There are several convenient transportation options as well, including the Kennedy Expressway, the Blue Line CTA station and numerous bus routes running along the neighborhood's central corridors.
"Affluent renters across the demographic bands have greater and greater options when it comes to rental apartments," Cocagne says. "Many of these renters dream of homeownership and the ability to grow into larger for-sale units in culture rich neighborhoods. We think that projects like Alcove M.D.P. fill this gap nicely." The units are generously sized, perfect to comfortably house a growing family or suburban downsizer while maintaining close proximity to "what makes Chicago, Chicago."
Alcove M.D.P. has two-, three- and four-bedroom units — 43 condos, 12 townhomes — that boast generous square footage, as well as custom finishes, vast outdoor living spaces prepped for grilling, multiple elevators (which is rare in a neighborhood of walkups) and secured indoor parking.
Perfect for entertaining, homeowners have access to a landscaped, common rooftop deck stocked with tables, chairs and grills. They can also purchase a private rooftop deck from $15,000, giving them 400 square feet of personal space to take in city views.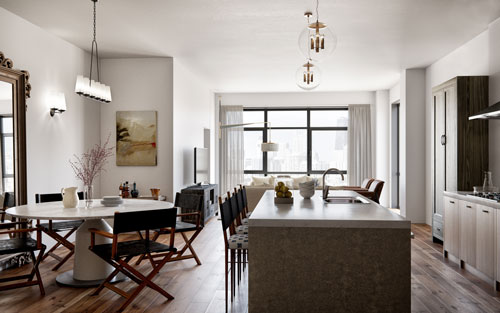 See what's inside
Buyers have 20 thoughtfully designed and functional floor plans to choose from and an interior designer on hand to create a home to suit their lifestyles. The floor plans are wider than a typical home, with open kitchens, a private wing for bedrooms and a separate space for entertaining.
"In Alcove, we spent a great deal of time perfecting our floor plans and providing a unique alternative to traditional Chicago multi-unit 'shotgun' floor plans," Parritz says.
Included in each unit's base package are quartz countertops, wide-plank hardwood flooring, Copatlife imported Italian cabinetry, stunning Viking appliances (refrigerators with French doors and six-burner cooktops), and a master bath with large porcelain tiles in a glass enclosed shower. Buyers have many different options to customize, from flooring colors to a vast selection of tile, plumbing fixtures and smart home features.
"We're not interested in building just another building," says managing director Kerry Dickson. "We innovate in both design and function. We're as excited about our projects as our tenants and residents are. Their delight is our delight."
All of the homes at Alcove M.D.P. include oversized balconies or terraces. The development will have its own landscaped walkway — open during the day and secured at night for residents — connecting Division Street to Milwaukee Avenue and Paulina Street.
The area itself, with housing priced to suit all demographics of buyers, is a melting pot of students, millennials, singles, families and long-time residents. Vermilion has created a development that will attract and satisfy a diverse group of potential homebuyers.
"We've customized our building to the way people live, not to the way that lots are dimensioned," Parritz says. "And our focus has been as much on experiential delight as it has been on delivering approachable value to homebuyers."
Sales & Marketing by ON Collaborative & Luxury Living
For more information call 312-224-2545, visit AlcoveMDP.com or email sales@alcovemdp.com.