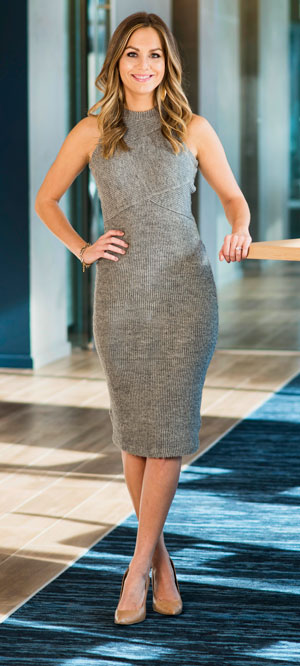 Number of years in real estate: 4
Describe your look: My look is completely dependent on my mood! I always try to incorporate one unique item, such as a studded purple clutch or high-waisted pants — but some days it's about comfort and simplicity, like jeans, a sweater and ankle boots.
What do you consider a "fashion don't"? My philosophy is just because it's "in style" doesn't mean it's for me. For example, ruffles had a moment this past year and I couldn't get on board.
What is your favorite piece of clothing and why? I love a great leather or faux leather coat. Pair it with jeans and a tee to create an edgy look, or with a dress for a cool, sophisticated look.
What do you consider a must-have accessory? Since I'm a Chicagoan, I find that I have an abundance of boots. I wear them all winter, and even in the summer with a cute skirt or dress. Even though I'm 5'10", I need to have a little heel on my boot, and I always wear heels for work. The extra inches give me more confidence.
What is a fashion crime you have committed in the past? My real estate partner, Grace Goro Kaage, and I have a tendency of showing up to work and events in matching outfits. It's always an accident but since we look alike, people think we're trying to match like the Olsen twins.
Where are your favorite places to shop? I love shopping my mom's wardrobe from the '80s and '90s. She kept a lot of her nice pieces from those times, and it's amazing how so much has come back in style. Even after I think I've taken all of the pieces I'll wear, I still find something great every time I go through it. I also love Nordstrom, Topshop, Zara and Free People.
What, besides your wardrobe, completes your look? A great bag! I've always been a huge fan of Rebecca Minkoff bags and products. They're so fun, and she has great customer service, which is something I strive for in my own career. Her bags always make my style more vibrant!
What is in your bag/briefcase? Besides my computer, which comes with me everywhere "just in case," I always have ChapStick. I usually have a little backup makeup, a reusable water bottle, pens, granola bars and pink pepper spray.
My closet is full of… I think I have about 32 pairs of jeans and I rotate my top three. More than half of my closet is black clothing, but you can never go wrong in black!
Dress: Anthropologie; shoes: Sam Edelman from Nordstrom; earrings: Cusp from Neiman Marcus; bracelets: Lucky Brand, and one passed down from my grandma.