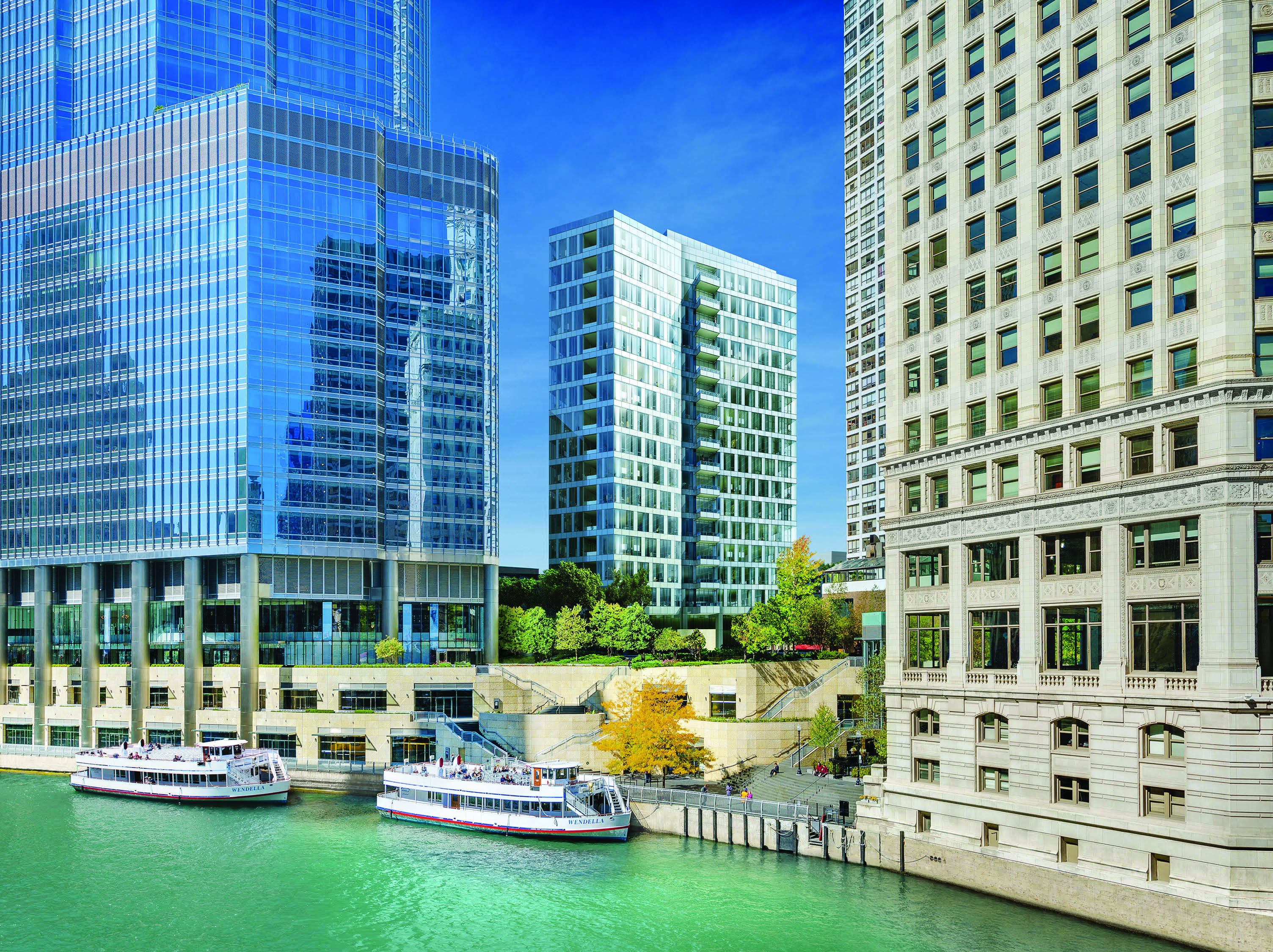 "It's exciting to be right on the cusp of something new," says Beth Wexner, a senior sales broker for @properties and lifelong Chicagoan. Over the last decade, she has seen the Chicago Riverwalk's transformation from an afterthought into a gorgeous focal point of the downtown Loop. The city has succeeded at creating a newly beautified waterfront befitting a world city — bold, vibrant, somewhere to embrace and enjoy the finer things in life.
It's also an exceptional place to call home, and one of Wexner's clients will do so next year at Renelle on the River, an 18-story, 50-unit luxury condo development at 403 N. Wabash Ave. which has redefined the Chicago Riverwalk and reimagined what downtown living can be.
"My clients were thrilled that they could buy a home that was the size they wanted with the amenities they wanted — all in a luxury-plus building," Wexner says.
Developed by Belgravia Group and designed by Chicago's bKL Architecture, Renelle features three- and four-bedroom luxury condominiums ranging from 1,827 to 3,400 square feet, priced between $1.3 and $3.2 million. Located between River North and the Loop, the building is within walking distance of Michigan Avenue's blend of acclaimed restaurants, boutique shops and major retailers, including the new Apple Michigan Avenue.
Wexner's client had been on the market for a new home in downtown Chicago, and there were plenty of options to explore. Cook County leads the nation in high-rise residential construction, and the number of luxury condominiums and lofts on the market is near an all-time high.
But having enjoyed a great working relationship with Belgravia Group in the past, Wexner was particularly interested in this latest addition to the company's impressive development portfolio.
Although Belgravia had already earned several awards and accolades — including 2016 Developer of the Year and 2017 New Development of the Year for Renelle from Chicago Agent magazine — what Wexner really valued were the relationships that she has built with representatives from Belgravia Group. From the moment her client walked in the door until closing, they felt encouraged through every step of the process. That commitment to customer service is an integral part of Belgravia Group's philosophy.
"We believe that Belgravia has a reputation for being reliable and having a certain quality of service," says Buzz Ruttenberg, founder of Belgravia Group. "At Renelle, we have developed a quiet, charming community with easy access to all the city has to offer, aided by the latest advances in modeling and construction technology."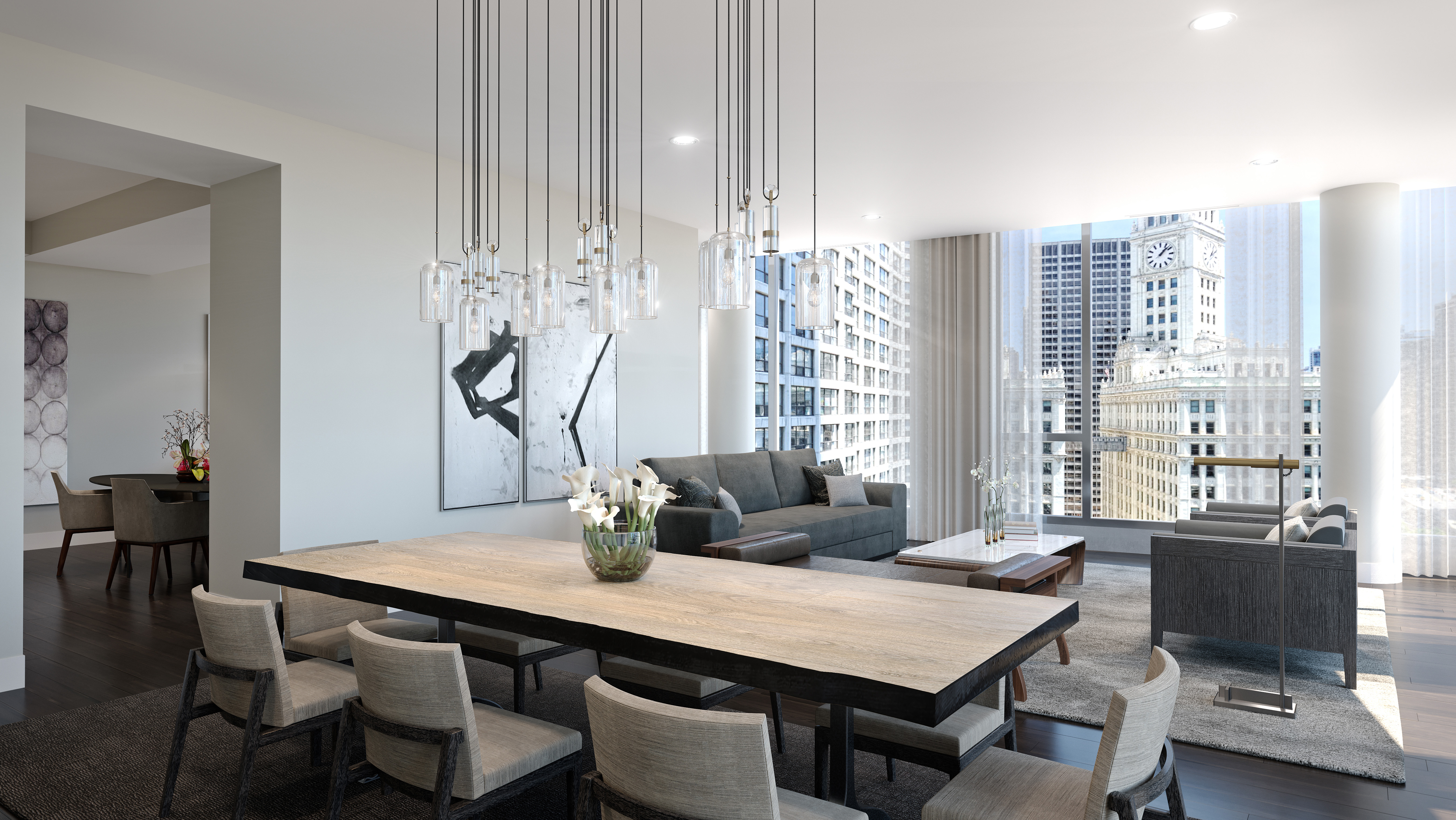 Intimate surroundings
Renelle was named after the word "runnel" — a small stream or brook — which perfectly encapsulates the feeling of comfort and tranquility that residents will find in this one-of-a-kind setting.
Each residence at Renelle offers spectacular views of the Chicago River and its surrounding architectural landmarks. Potential buyers like Wexner's client can visualize their future home at the on-site sales center through a virtual reality headset that also allows them to experience these stunning visuals.
"We give them a sense that we can deliver the space we promise," Ruttenberg adds. "The virtual reality experience gives people that flexibility to see all of the interesting details — from the fabulous views of the river to the gracious, spacious floor plans we have available. It gives them a feeling of trust and comfort."
Through this cutting-edge technology, buyers can also select from an impressive array of fixtures, finishes and other home options.
"The design department works well with both the buyers and the interior designers to make it easy for the homebuyer to personalize their home," Wexner shares.
Pam Albrecht, broker associate with Belgravia Group, has spent her whole career in new construction sales. She says Renelle presents a special opportunity for buyers who want to experience the vitality and the beauty of downtown while also having their own relaxed living space.
"I like to say that the development is hidden in plain sight. It's simply breathtaking," she says. "People have been gravitating toward this area because of the energy and excitement that it brings, but the building itself is quiet and peaceful."
In its efforts to enhance the community feel, Belgravia has included shared amenities such as a fitness center with yoga room, a game room and a private dog run. The building's top level will feature a 4,300-square-foot terrace with a fireplace.
Currently at 58 percent sold, Renelle has attracted a wide audience long before its first deliveries in early 2019 — from empty nesters trading in suburban life for city living to established professionals looking to take the next step into homeownership. Just like the Chicago Riverwalk, these buyers are right on the verge of a revitalizing new chapter.
"It's a joy to see that Renelle has become the choice for so many people. It's a real gem," Ruttenberg says. "We believe that this is the core of what urban living is all about."