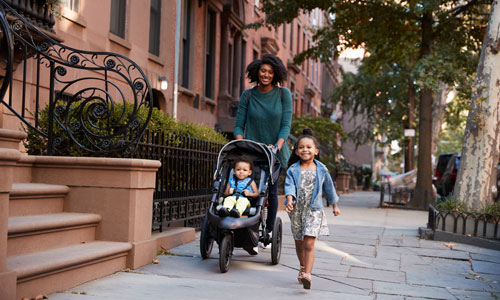 A pair of Chicago suburbs are among the nation's top 10 safest cities in 2018, according to a new study from NeighborhoodScout.
The site's annual list of Top 100 Safest Cities in the United States included Buffalo Grove at No. 7 and Lake in the Hills at No. 9.
Both cities have ranked in the top 10 for the third consecutive year. In total, 17 of the 100 cities on this year's list are in Illinois.
To create the list, NeighborhoodScout compares cities across the country with a minimum population of 25,000. Crimes reported by the nation's 18,000 local law enforcement agencies are factored into the data. Each city's population and reported number of crimes are divided by 1,000 to provide a crime rate per 1,000 residents.
Across the country, homebuyers are attracted to residential suburbs within metro areas near major cities that have low crime rates. These so-called "bedroom communities" offer residents life in a quieter neighborhood, while enjoying close access to major cities such as Boston, New York or Chicago.
Buffalo Grove is safer than 88 percent of cities in the U.S., according to NeighborhoodScout's data, with a crime rate of 5.39 percent per 1,000 residents.
Lake in the Hills is safer than 87 percent of cities in the U.S., with a crime rate of 5.9 percent per 1,000 residents.
Other Illinois cities included on the list are Wheaton (No. 25), Bartlett (No. 26), Hanover Park (No. 34), Huntley (No. 40), Lockport (No. 47), Plainfield (No. 49), Carol Stream (No. 51), Hoffman Estates (No. 67), Glen Ellyn (No. 69), Highland Park (No. 71), Des Plaines (No. 75), Mundelein (No. 76), Arlington Heights (No. 83), Park Ridge (No. 85) and Mt. Prospect (No. 94).
"We continue to see bedroom communities, which are within large metro areas and near major urban centers like Boston, Chicago and New York, make the top of our list," said Dr. Andrew Schiller, CEO and founder of Location, Inc. and NeighborhoodScout. "These safe communities within the urban/suburban fabric of America's largest metropolitan areas often combine access to high-paying jobs in the urban center, decent schools and a high quality of life. This access to opportunity increases home values, with the result often being lower crime."
NeighborhoodScout is a website and online database of U.S. neighborhood analytics that serves as a resource for nationwide crime data, school ratings, demographics and more. The Top 100 Safest U.S. Cities list debuted in 2012.
| | | | | |
| --- | --- | --- | --- | --- |
| | | | Number of Total Crimes | Crime Rate (per 1,000 residents) |
| 7 | Buffalo Grove | 13 | 223 | 5.39 |
| 9 | Lake in the Hills | 24 | 170 | 5.90 |
| 25 | Wheaton | 32 | 366 | 6.86 |
| 26 | Bartlett | 32 | 284 | 6.90 |
| 34 | Hanover Park | 39 | 297 | 7.81 |
| 40 | Huntley | Unavailable | Unavailable | Unavailable |
| 47 | Lockport | 22 | 215 | 8.52 |
| 49 | Plainfield | 37 | 367 | 8.55 |
| 51 | Carol Stream | 36 | 343 | 8.56 |
| 67 | Hoffman Estates | 55 | 488 | 9.43 |
| 69 | Glen Ellyn | 26 | 271 | 9.66 |
| 71 | Highland Park | 21 | 288 | 9.72 |
| 75 | Des Plaines | 45 | 586 | 10.08 |
| 76 | Mundelein | 24 | 318 | 10.10 |
| 83 | Arlington Heights | 58 | 785 | 10.39 |
| 85 | Park Ridge | 12 | 390 | 10.40 |
| 94 | Mount Prospect | 26 | 595 | 10.98 |