Those hoping to move to Chicago will likely face some serious competition during the search process — people who already live here are pretty much staying put. According to Redfin's recent migration report, Chicago had the most loyal residents of any U.S. metro during Q2.
The study analyzed online home search activity of more than one million Redfin users across 75 metros from April through June. According to the report, one particular trend seemed to continue from Q1: migration from the largest, most expensive cities to more affordable mid-tier cities. However, this pattern didn't exactly hold true for Chicago, as 92.1 percent of Windy City users primarily searched for homes in the same area.
While Chicago did have the fifth highest number of total residents searching for property away from home — 2,631 users — this number only makes up 7.9 percent of the city's total users. Compared to other cities on the list, it's a small portion. In New York, for example, 34.6 percent of local users searched elsewhere for a home. In Dayton, this percentage was 37.3. It's also a much smaller number than the national average, which is 21 percent of Redfin users searching outside their home metro.
It's safe to say Chicago is becoming more popular as a whole. Cities like Denver, Detroit, and Milwaukee made the list of the highest number of users looking for homes elsewhere. For each of those metros, Chicago was the most searched destination both out-of-state and overall. Chicago was also the top out-of-state destination for Dayton, another metro with one of the largest net outflows in Q2.
"Chicago is the hub of the Midwest. Many doctors, engineers and professionals from graduate and residency programs move here to take the next step," Redfin agent Lamar Austin said. "While homes are more expensive in Chicago than cities like Detroit, salaries tend to be higher and there are more opportunities to move up the career ladder in a big, international city with many corporate headquarters and a flourishing tech industry."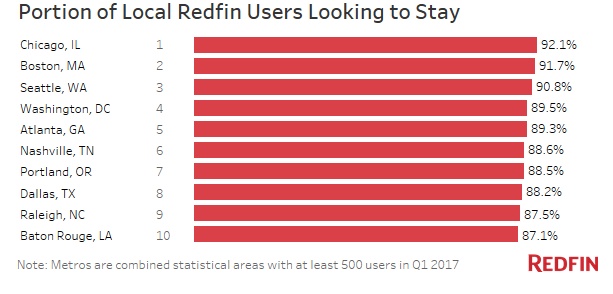 Source: Redfin