It's easy to see America's rents are skyrocketing, but some of the most drastic effects of this trend often go unnoticed by the average consumer. According to a recent Zillow report, higher rents are leading to a larger homeless population in a majority of the country's biggest metros. And as prices continue to soar, the problem will only worsen.
Volunteers in major cities conduct official homeless counts, but these counts can be misleading. In fact, as many as 41 percent of unsheltered homeless people aren't included in the count during the average nightly survey, according to the report. Zillow's research expanded on the counted number of homeless people in each metro to estimate how many additional people will become homeless as rents continue to climb, as well as provide a more accurate figure for each city's homeless population overall.
Homelessness actually fell in Chicago to 6,841 from the original 2016 estimate of 7,614, but don't be fooled by this decline — the study also found that rents have increased across the country, but income levels haven't exactly followed. This dangerous trend often forces families to spend money they should be saving for other circumstances, such as medical emergencies or job loss. If the city's average rent were to increase just five percent, the study estimates an additional 189 Chicagoans would already become homeless.
A harmful economic cycle
As median home values continue to increase and inventory grows tighter, it's easy for once hopeful buyers and renters to become stuck in the search process. This trend leads potential sellers to grow reluctant to give up their own space, which only aggravates the problem further. According to the report, many American cities face starkly similar problems economically, but there doesn't appear to be a universal way to fix them.
"Often, the rental demand in these markets isn't being met with a sufficient supply," Zillow senior economist Dr. Skylar Olsen said. "There are several cities grappling with this problem, but there is no one-size-fits-all solution for everyone."
But one looming factor remains clear — until these cities can break the connection between rising rents and homeless populations, the number of Americans effected by this epidemic will continue to grow.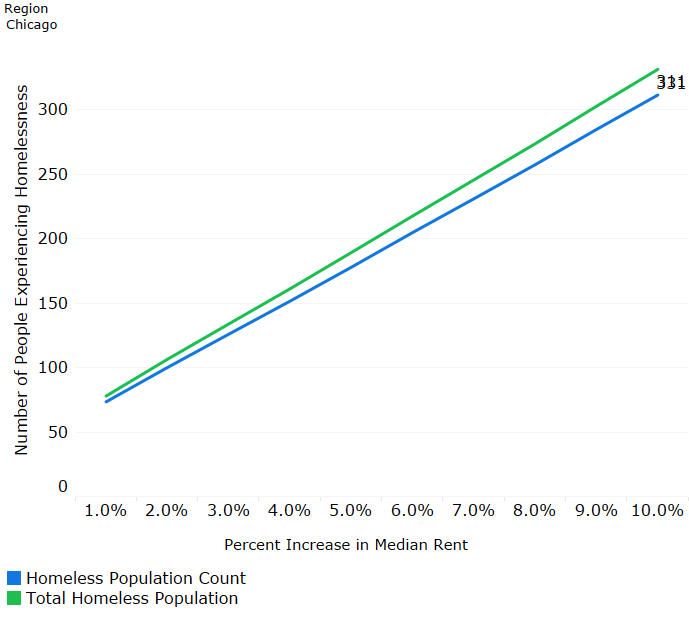 Source: Zillow