Millennials are known for their desire to live in cities with busy nightlife and easy access to outdoor activities. But this need doesn't only apply to Generation Y — it turns out baby boomers want walkability in their neighborhoods as well. This desire could impact how a variety of communities choose to implement new designs, according to A Place For Mom's senior living preferences survey.
The study provides insight into what seniors need most when it comes to housing, as well how certain preferences come into play when choosing the right neighborhood. This time, A Place for Mom — America's largest senior living referral service — included walkability preferences, as well as how those preferences vary by factors such as age and budget. What the data found is that more seniors are placing walkability on their list of top priorities in a place to live.
Walkability wanted across the board
This desire doesn't only pertain to seniors who are active on a daily basis. According to the report, 26 percent of assisted living consumers, 38 percent of independent living consumers and as many as 53 percent of senior apartment consumers want walkability. This preference is not just for city dwellers either — more than half of suburban consumers, as well as one-third or more of consumers who prefer rural areas, want walkability.
These numbers aren't exactly surprising, according to A Place for Mom data scientist Ben Hanowell. By 2020, almost 56 million Americans will be age 65 or older, increasing the need for senior care programs. But as the population begins to age more slowly each year, adults are also staying active longer than they used to.
"Across the spectrum of care needs, older adults will have a major impact on housing development over the next two decades," Hanowell said. "As a society, we need to start paying more attention to their behavior and preferences."
Researchers like Hanowell hope the new findings will motivate developers to make factors such as walkability and easy access to public transportation more of a priority. In fact, the study alludes to the idea that members of all generations would likely benefit from added walkability wherever they choose to live.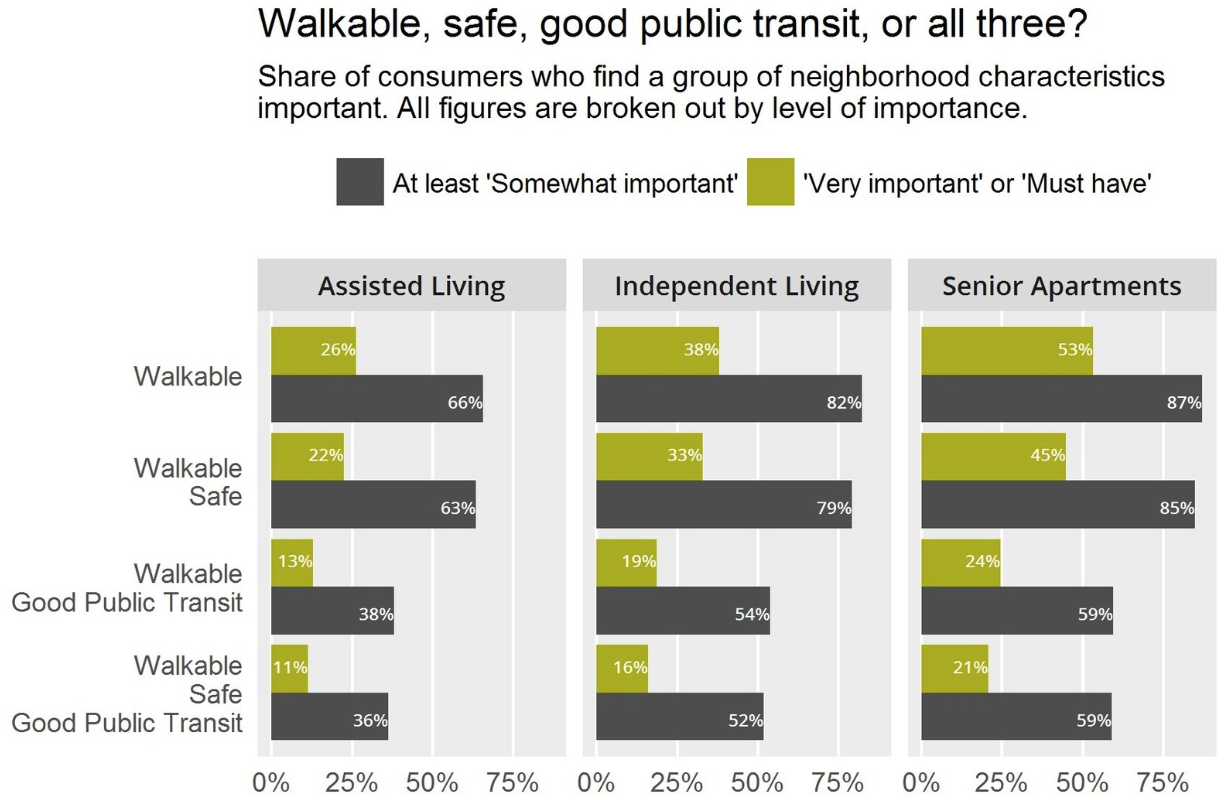 Source: A Place for Mom Senior Living Preferences Survey