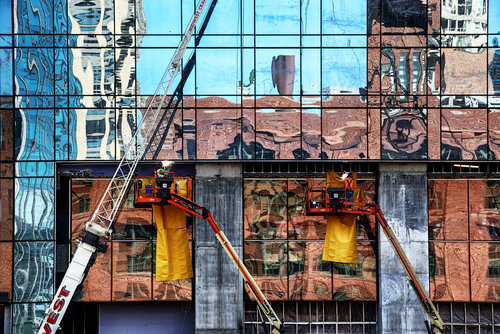 Dodge Data & Analytics released new statistics on money spent on new Chicago construction Thursday. The report considered all May 2017 constructions starts in the Chicago area.
There was a decrease of 14 percent for nonresidential construction starts between this year and last, according to the report. Chicago's total in nonresidential construction starts equaled $375,777,000 in May, while last year's was $437,840,000. Residential building decreased as well and more drastically.
In May 2017, residential building starts totaled $598,795,000 while 2016 saw a total expenditure of $1,196,617,000. Residential building's percent change ended up as down 50 percent, a considerable decline compared to nonresidential's -14 percent change. The numbers put total construction in Chicago for May at $974,572,000 in 2017, a -40 percent change from 2016 which ended with $1,634,457,000 spent.
Year-to-date Differences
According to the report, nonresidential building saw a -43 percent change in the year-to-date numbers between this year and last. Money spent on residential construction starts stayed consistent since last year with no percent change and spending from $2,784,340,000 in 2016 to $2,797,463,000 in 2017. Residential construction's zero percent change couldn't raise the total percent change for building (nonresidential and residential construction starts) into the positives; final percent change equaled -19 percent.
These lackluster numbers conflict with earlier reports of booming residential construction in Chicago. According to past Dodge Data & Analytics reports, February of this year saw a 4 percent increase in residential construction, much higher than May's -50 percent change. Total building percent change for May was -40 percent versus February's -13 percent, while the year-to-date numbers were also inconsistent with May's. The year-to-date percent change in February was 36 percent, whereas May's was -19 percent.
| | | | |
| --- | --- | --- | --- |
| Construction Type | May 2017 | May 2016 | Percent Change |
| Nonresidential | $375,777,000 | $437,840,000 | -14 |
| Residential | $598,795,000 | $1,196,617,000 | -50 |
| Total Building | $974,572,000 | $1,634,457,000 | -40 |
Year-to-date numbers
| | | | |
| --- | --- | --- | --- |
| Construction Type | YTD 2017 | YTD 2016 | Percent Change |
| Nonresidential | $1,282,939,000 | $2,232,059,000 | -43 |
| Residential | $2,797,463,000 | $2,784,340,000 | 0 |
| Total Building | $4,080,402,000 | $5,016,399,000 | -19 |
Source: Dodge Data & Analytics