Modern homes favor efficiency and space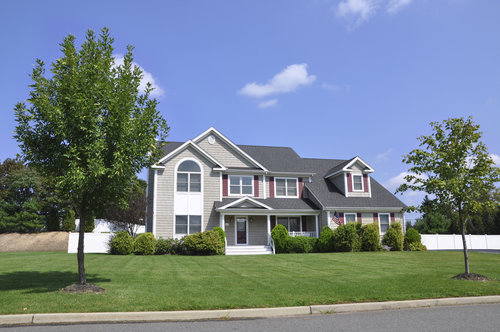 Just as the average American homebuyer has changed over the years, so too has the average American home.
According to a new analysis from the National Association of Realtors, new homes are characterized by some key traits:
The median size of new homes has increased substantially. Back in 1973, according to Census Bureau statistics, the median size for a newly built single-family home was 1,525, but in 2015 – thanks to a shift towards building for higher-income demographics – that median size had ballooned to 2,471.
One-story homes were popular choices amongst both buyers and builders in the late '60s/early '70s, as space was not a necessity. Nowadays, 60 percent of homes have at least two stories, due to families seeking more space and an increase in multi-generational households.
Fifty years ago, homes were designed with closed- oor designs, with the kitchen,
dining room and living rooms being separate from each other. Today, open- oor design is commonplace for all generations of buyers, who want more e ciency in home design.
Finally, energy e ciency has emerged as a key deciding factor in the buying process. According to NAR's 2016 Home Buyer and Seller Generational Trends report, 35 percent of all buyers consider heating and cooling costs their top concern; Gen Xers and Young Boomers were particularly keen on the topic, with 37 and 38 percent, respectively, rating it their top concern.
Location More Important Than Ever
One of the key trends noted by Robert Dietz, chief economist at the National Association of Home Builders, was the strong focus on location. Even though new homebuyers will buy in the suburbs, they still desire many of the benefits of living in urban environments.
"We may see a rise in townhomes and locations near urban villages with walkability features, but overall the same preferences that have been in the market for generations will remain," Dietz said. "Most people want to own their own home and want their own place out in the suburbs, and I think that will continue."
While Dietz is quick to dismiss the possibility of urban living being favored over suburban, a CityLab study found that both young adults and Baby Boomers are widely choosing to live in urban city centers over suburban meccas like previous generations, and this may not be due only to job location.
CityLab found that desires for social amenities and entertainment within close proximity was a key factor in the decision to choose the city over suburbs. Meanwhile, Millennials are choosing to live in urban centers regardless of where they work, a trend that's occurring in the 10 largest metro centers in the country.
While Builder magazine found that Millennials would move out of the city, it was only if they would be able to have similar walkability to living in the city, making location even more important than ever before for both homebuyers and agents.