New study from CoreLogic reveals how prices are changing around the country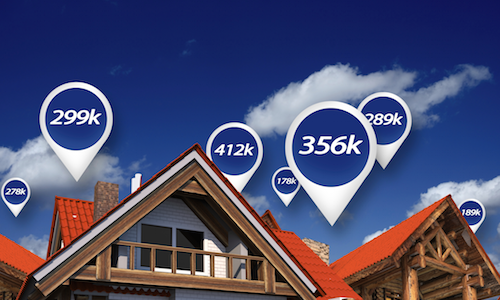 Marking more than three years of consecutive year-over-year growth, home prices nationwide, including distressed sales, pushed forward another 6.8 percent in April, according to a new report from CoreLogic.
It has been a similar story all year: low supply and strong demand force home prices higher. From March, total sales increased by 2.7 percent, while sales, excluding distressed, rose 2.3 percent month-over-month and 6.8 percent year-over-year. Moving into summer, the pace of appreciation is expected to remain strong as inventory remains low. At last reporting, the national inventory was at a 5.3-months supply and well below pre-crisis levels.
Prices continued their ascension in the Windy City as home prices, including distressed sales, increased 4.5 percent year-over-year, and excluding distressed sales, 6.6 percent year-over-year. Month-over-month, prices, including distressed sales, rose 3.9 percent, and excluding distressed sales, 3.3 percent.
At the state level, total home prices rose 3.3 percent from the same time last year, and prices, excluding distressed sales, increased 5 percent.
Moderate price increases have been the mark of Chicago's market in recent months, and it's a trend the city is happy to maintain. There's a fine line between exponential and healthy growth, and thus far into 2015, Chicago is keeping well on the side of healthy. However, while the increases are welcome and the pace of appreciation likely sustainable, Chicago is still in need of increased construction or, at least, a surge of existing inventory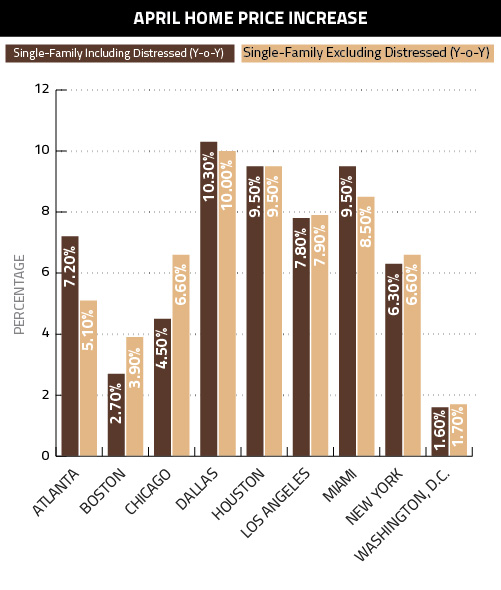 An Expected Jump
Much like March, CoreLogic's report documented a month of near universal gains. The increases themselves are not terribly surprising, considering historical increases during the spring and summer months, but the pace of appreciation, at least in some areas, arouses cause for concern.
Here are some more localized findings from the group's report:
Including distressed sales, 30 states plus the District of Columbia were at or within 10 percent of their peak prices in April. Eight states and the District of Columbia reached new price peaks not experienced since January 1976 when the CoreLogic HPI started. These states included Alaska, Colorado, Nebraska, New York, Oklahoma, Tennessee, Texas and Wyoming.
Excluding distressed sales, only South Dakota (-0.3 percent) and Louisiana (-0.2 percent) showed year-over-year depreciation in April.
Appreciation to Continue into 2016
Right out of 2015's gate, prices were on the upswing, CoreLogic Chief Economist Frank Nothaft recalled in a statement accompanying the report.
"One byproduct of the increased sales activity is rising house prices, and, as a result, month-over-month home prices are up almost 3 percent for April 2015 and up more than 6 percent from a year ago," he added in explanation.
As to what is fueling the increase, Anand Nallathambi, the group's president and chief executive, attributes the swelling pace to fundamental economic drivers: supply and demand.
"Old fashion supply and demand, fueled by historically low mortgage rates and improving consumer finances and confidence, continue to push home prices up," he said.
Looking ahead, Nallathambi went on to say he expects appreciation to continue throughout the year and later spill into 2016.
"Over the longer term, household formation, up by more than one million over the past year alone, will drive down vacancy rates and create tighter housing markets in many metropolitan areas," he said. "This should provide the necessary underpinning for rising prices for the foreseeable future."