This year proving to be especially positive for Chicagoland new construction
Residential construction spending in the Chicagoland area totaled $362 million in April, a 17 percent increase over the $309 million of April 2014, according to the latest report from Dodge Data & Analytics.
Even more encouraging, thus far in 2015, Chicagoland's new residential construction activity totals $1.184 billion, which is a 28 percent increase over the same time period in 2014.
Based on Dodge Data's numbers, below are graphs that compare Chicagoland's new construction marketplace with those of other large metro areas. The first graph shows residential construction spending in April: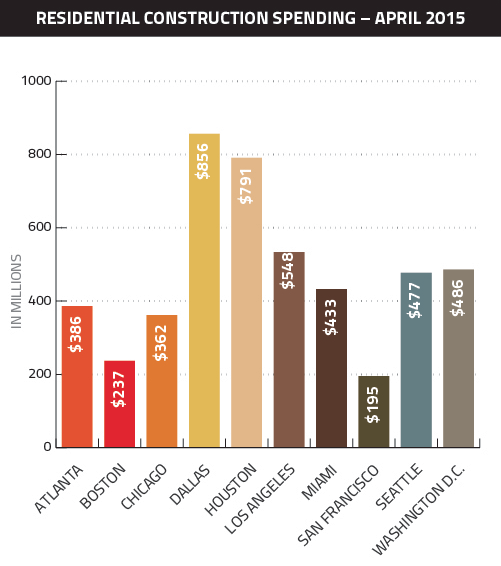 Despite Chicagoland's strong 2015 numbers, it remains behind nearly all large metro areas in total spending.
Things change, though, when looking at the year-over-year growth in construction: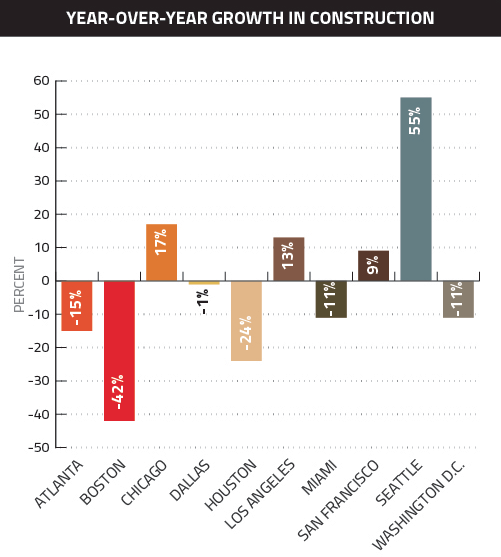 With the exception of Seattle's sterling growth – which is likely a blip – Chicagoland put up some of the strongest numbers in the country, relative to last year.
And finally, Chicagoland's year-to-date numbers are similarly on par: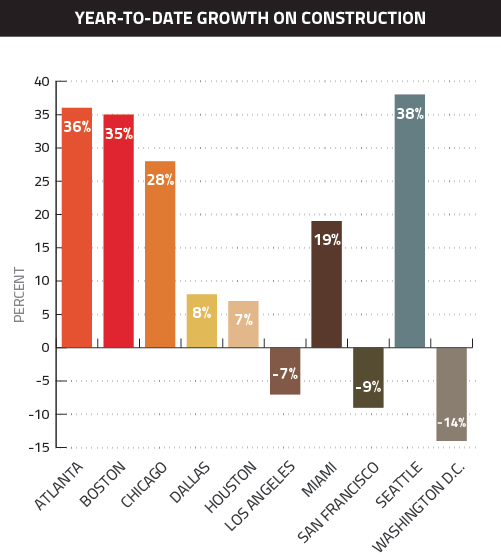 As positive as those numbers are, they do come with a couple substantial caveats: first, according to Census Bureau analysis of building permits, 55.4 percent of new construction in Chicagoland is for multifamily units, which will have little effect on the area's housing inventory woes; and second, rent for new construction in Chicago comes at a 35 percent premium (up from 12 percent in 2005), which hardy assuages affordable housing concerns.