A new report from CoreLogic shows foreclosures are falling across the nation, mostly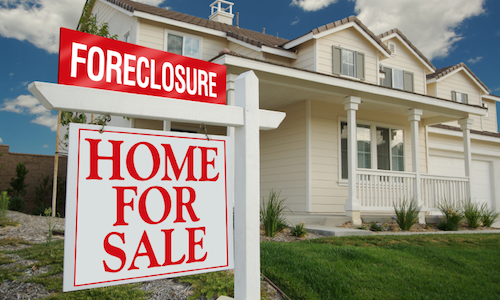 The nation's foreclosure inventory is in decline, falling 25.7 percent year-over-year in March, which represents a continued effort to regain the market normalcy enjoyed in pre-crisis years, a new report from CoreLogic found.
In its report, the research group noted that approximately 41,000 foreclosures were completed in March, bringing the total share of foreclosures down to 1.4 percent, equating to 542,000 homes. That's down from 1.9 percent, or 729,000 homes, in March 2014.
Completed foreclosures, or the number of homes actually lost to foreclosure, fell 15.5 percent year-over-year, and are down more than 65 percent since the peak of completed foreclosures in Sept. 2010.
The promising drop in foreclosures is only bolstered by serious delinquencies in the country declining by 19.1 percent from the same time last year, putting the share of seriously delinquent mortgages at 3.9 percent, the lowest rate since May 2008.
In the Windy City, foreclosure inventory fell another 1.0 percent year-over-year, bringing total share to 2.1 percent. Similarly, the state's foreclosure inventory dropped 0.9 percent to 1.8 percent, marking another month of strong decline.
Regarding serious delinquencies, both the state (4.8 percent) and its biggest metro (5.5 percent) fell 1.3 and 1.5 percent, respectively. And while rates remain above the national average and well beyond pre-crisis levels, consistent growth has put the state on a strong trajectory for attainable long-term sustainability.
Mostly Good, Some Not So
Delving further into CoreLogic's report, researchers unearthed a number of both positive and negative market indicators, illustrating that despite near universal gains, some markets are fairing far better than others.
On a month-over-month basis, completed foreclosures increased by 7 percent from the 38,000* reported in February 2015. As a basis of comparison, before the decline in the housing market in 2007, completed foreclosures averaged 21,000 per month nationwide between 2000 and 2006.
The five states with the highest number of completed foreclosures for the 12 months ending in March 2015 were: Florida (110,000), Michigan (50,000), Texas (34,000), Georgia (28,000) and Ohio (28,000).Those five states accounted for almost half of all completed foreclosures nationally.
Four states and the District of Columbia had the lowest number of completed foreclosures for the 12 months ending in March 2015: South Dakota (16), the District of Columbia (87), North Dakota (326), West Virginia (462) and Wyoming (517).
Foreclosure Inventory Heading for Below 1 Percent
While gains and losses varied from market to market, the overall consensus from CoreLogic CEO Anand Nallathambi and Chief Economist Frank Nothaft was a positive one.
"We are seeing additional improvement in housing market conditions due to a decline in the serious delinquency rate to 3.9 percent, far below the peak of 8.6 percent in early 2010," Nothaft said.
Still, he added, those declines have yet to bring delinquency levels below the pre-recession standard of 1.5 percent, which is not to say they're not heading in that direction.
"Foreclosures and serious delinquency rates continue to drop as the home purchase market begins to emerge from its eight-year slump," Nallathambi commented.
Evaluating current trends, CoreLogic's chief executive went on to say that the foreclosure inventory is expected to drop below 1.3 percent by midyear, pushing foreclosure inventory to its lowest level since 2007, but warned that states in the Northeast and Midwest, as well as Florida, represent a continuing problem despite "rapid progress as of late."
"In March, foreclosures in these areas accounted for a large proportion of completed foreclosures," he said.