We keep anticipating a wave of downsizings from the nation's Baby Boomers, but the data does not bare out such a shift.
Baby Boomers are the grand representatives of single-family suburban homes, and analysts and real estate professionals alike have been wondering when those boomers will begin selling their single-family properties and transitioning to apartments and condos.
There has been quiet anticipation in recent years that such a sell-off is right around the corner, but new data – conveniently collected and analyzed by the kind folks at Trulia – suggests that Baby Boomers may be staying in their single-family homes for just a little bit longer.
Lagging Presence in the Multifamily Market
Firstly, there is the current presence – or lack thereof – of Baby Boomers in multifamily housing. According to the 2013 Current Population Survey's Annual Social and Economic Supplement, which took a detailed look at demographic information, Baby Boomers (who the survey defined as being aged 50 to 64 as of 2014) are the second least likely group to live in a multifamily building; only 70-74 year olds are less likely.
Here's a graph from Trulia that shows the divide: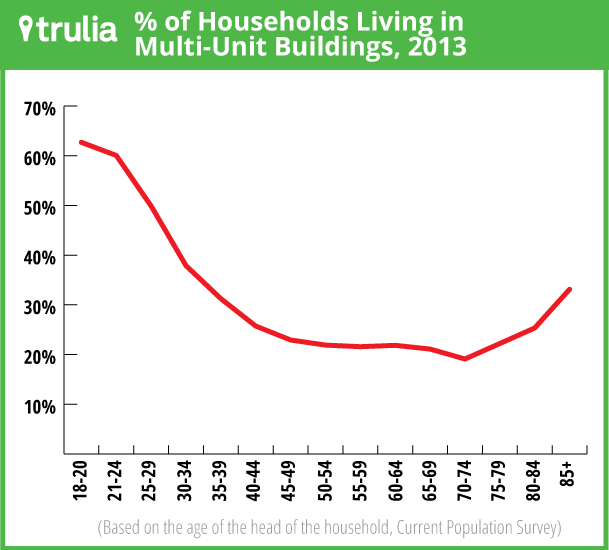 Are the Baby Boomers Different?
Still, that graph is for Baby Boomers at the present moment, and doesn't necessarily predict future behavior. To get some insight into that, here's another interesting Trulia graph, which looks at longer term trends for Baby Boomers and the Greatest Generation when it comes to multifamily housing: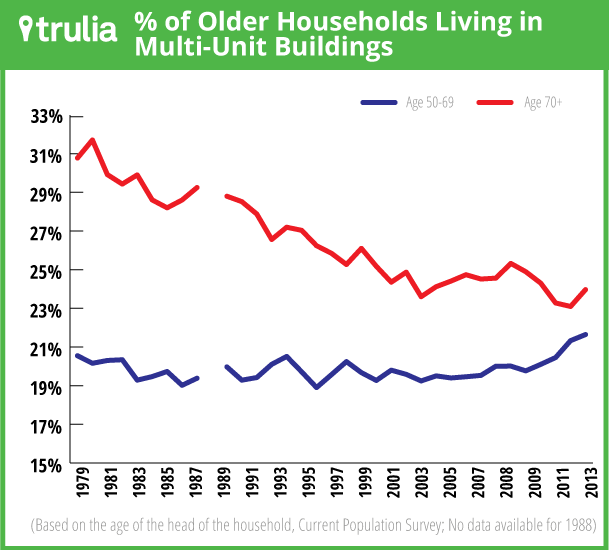 The first thing that leaps out is the gradual rise of Baby Boomers (the blue line) who live in multifamily housing, starting in 2007 – maybe the Baby Boomers really are different? Or was it more the economic downturn that inspired such accommodations?
As Jed Kolko, Trulia's chief economist, pointed out in his analysis, we can't ignore the longer-term trend for Americans aged 70-plus, who have been living in fewer and fewer multifamily dwellings over the last 34 years (see how the red line declines?).
"Baby Boomers are entering an age group that is less likely to live in multi-unit buildings than their own parents did two or three decades earlier," Kolko wrote. "While the cyclical effect of the recession might hasten downsizing for some boomers, the long-term secular trend means boomers are reaching older adulthood in an era when downsizing is less common and comes later in life than it used to."
So what does the future have in store? We'll have to wait and see!