Winter was none too kind to Chicagoland in February, with his cold gusts and snowfall harming the area's housing market.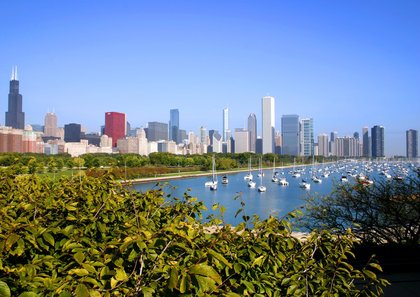 The bitter winter weather was unkind to home sales in the nine-county Chicagoland area, which fell 8.2 percent year-over-year in February, according to the latest report from the Illinois Association of Realtors.
The month was not all bad, though. For one, median price was up 11.4 percent year-over-year to $156,000, and time on market continued to drop, falling 15.1 percent to 73 days.
Geoffrey J.D. Hewings, the director of the Regional Economics Applications Laboratory of the University of Illinois, said that February was a month of mixed signals, though the future does look bright.
"The combination of increasing median prices and mixed signals from sales continued in February," Hewings said. "Clearly, the dismal, persistent winter weather dampened enthusiasm for the housing market in early 2014; however, the forecast for month-to month-sales indicates positive trends for the next three months."
Chicago Winters and Housing
In the city of Chicago, the narrative was similar, although the numbers were not quite as severe. Home sales in the city were down 3.5 percent from last year to 1,361, with median price rising 12.1 percent to $175,000.
Matt Farrell, the current president of the Chicago Association of Realtors, said the holds quite a bit of potential.
"February's weather was not anymore welcoming to buyers than January in Chicago. People do not want to go shopping for homes in unseasonably cold weather," Farrell said. "Buyers are, however, ready to move and as homes come on the market, they are aggressively making their best offers. Median pricing is up, signaling a strong market on the rise.  As sellers get their homes show-ready for a spring market, we believe these homes, too, will move quickly, if priced right."
Prices Remain Strong in Suburban Chicago
Meanwhile, in suburban Chicago, the median price for single-family detached homes rose 11.6 percent in February from last year, mainly as a result of low inventory.
Michael Parent, the president of the Mainstreet Organization of Realtors, said sellers need to get off the sidelines and list their properties.
"Right now, everyone is waiting for the next person to list first," Parent said. "In this market, your goal should be to get in and get out – under contract within 30 days and closed within another 60 to 90 … The demand is there. Everybody's just waiting for that gate to open."
Some communities, though, certainly saw strong sales increases, including: Bloomingdale (125 percent increase from February 2013); Bridgeview (140 percent); LaGrange (100 percent); Lisle (143 percent); Palos Hills (400 percent), Prospect Heights (200 percent) and Schiller Park (133 percent).