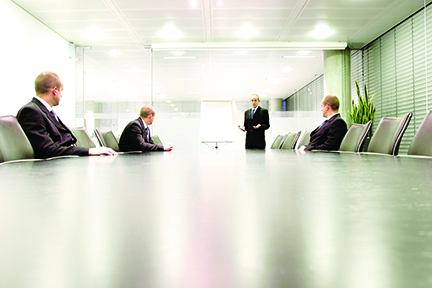 This is the "Year of Originator Free Agency," where because of the qualified mortgage rule, loan officers will be able to dictate terms and conditions to current potential employers, one recruiter states.
On the other hand, there is a new equilibrium in the job market in 2014, because smarter firms are willing to provide originators with the support they seek because it boosts the company's own efforts, says one lender that has been actively hiring.
From the recruiter's point of view, 2014 is actually the first year of a shift in the balance of power that will continue for several years to come.
A lot of firms do not focus on the "value proposition tools as it relates to the retention of their own people," says Drew Waterhouse, managing director of Hammerhouse, Mission Viejo, Calif.
Lenders concentrate on whom they can attract to work for them. This in turn is creating the shift in the balance of power mentioned above, which leads Waterhouse to term this as the "Year of Originator Free Agency."
When it comes to QM, there are firms that are willing to do above a 43 percent back-end debt-to-income ratio loan as long as it gets approved by automated underwriting. Others will not touch those loans at all. The decision the lender makes regarding non-QM will affect its ability to recruit new people and/or keep their current ones, Waterhouse says.
Lenders are being asked if their leadership, on a company cultural basis, is willing to take the risk involved with doing a non-QM loan. Those firms able to offer a broader product spectrum will have an advantage in recruiting in a purchase mortgage environment, Waterhouse says.
Loan officers are expecting their current employers to deliver value to them in order to stay put. If the company isn't, the loan officers are looking for new places to work.
"They are doing it openly, knowingly and they are communicating it," Waterhouse declares.
Those who have a purchase-oriented clientele and/or referral partners have the power right now to find a new home where they feel it is best for their business to develop, he continues.
To be the employer of choice, a lender has to be set up to deal with the more customer-centric, "customer-needy" approach of purchases.
The attitude among loan officers has become, "is my business being completely supported by my employer?" That is the driving focus, Waterhouse reiterates.
Lumped under the business development umbrella is marketing support. It is part of the value proposition loan officers are seeking from their companies that helps them conduct their business, Waterhouse says.
But it is not about just marketing. It is about all of the decisions being made as a company reacts to the change in the mortgage origination environment.
Is the company updating its marketing or is it using the same pieces it has in the past? Or is it using a third-party and that vendor is not bringing something new to the table? Those are among the issues loan officers are examining.
Churchill Mortgage in Brentwood, Tenn., has added plenty of new employees in recent months. While the employee stock ownership plan established in October might be an incentive for people to come aboard, there are other reasons why loan officers are picking the company.
Loan officers concerned about having their employer give them the tools to comply with the Dodd-Frank Act and QM is a changing trend in the mortgage industry, says Matt Clarke, Churchill's chief financial officer.
Sales people have always had the ability to decide where they wanted to work. But the reasons why someone wants to work for a specific company have shifted, he says.
In the refinance market, which Clarke suggests has lasted most of the last 20 years, a company's ability to provide leads to the loan officer was the main attraction.
Today, loan officers who have the ability to generate business on their own are looking for lenders that provide them with tools, systems and support to augment that ability.
There might not be a shift in power, but it is more the reason why loan originators might choose to work for different companies.
Churchill is seeing more responses to its job postings than last year. Many of the aspects Waterhouse gives for loan officers looking for jobs, this lender is looking for, as well from those it interviews.
From the mortgage company's point of view, it wants people who have "a professional respect and awareness of the compliance side of the business and who want to work with a company that does it right," Clarke says.
There are companies that do not have the compliance part of the business down pat and those firms are not likely to survive.
Regarding loan officers looking for new jobs, there are still those sales people out there that are turning their heads, pretending the new regulations do not exist and continuing to do things the way they have always been doing them. Lenders have to weed those out.
The next group is those who have worked only with Internet leads, rather than hitting the streets to build business. Those have to be weeded out as well.
So what is left are those who have respect for the compliance side of the business.
They want a company who will partner with them on that aspect and has the tools, systems and resources to ensure compliance, Clarke says. At the same time, these loan officers need to be able to bring value to referral partners, develop business and not rely on company-provided leads.
"If you can find those people, you've got a real reason to talk to them about coming on board," Clarke says.
COPYRIGHT 2014 NATIONAL MORTGAGE NEWS
REPRINTED WITH PERMISSION