Housing inventory has fallen precipitously the last couple years, but has it finally bottom now in 2013?
It's the question on everyone's mind nowadays – when will housing inventory finally stop falling? Indeed, low housing inventory levels have wreaked havoc in many of the naton's busiest housing markets, with high buyer demand and competitive price points (not to mention the many multiple offer situations that have ensued) driving many an agent bonkers.
New data out from Housing Tracker, though, suggests that there could be light at the end of the tunnel, and that housing inventory may have finally bottomed.
Housing Inventory Increases in 2013
According to the Housing Tracker data, which Bill McBride compiled on his influential economics blog Calculated Risk, housing inventory has been on a good pace in 2013:
So far in 2013, housing inventory is up 16.4 percent from the start of the year.

Though inventory, as of last week, was still 15.5 percent below 2012's levels, its 2013 increases far exceed the rates in 2011 and 2012.
For additional perspective, here's a graph from Calculated Risk showing the increases: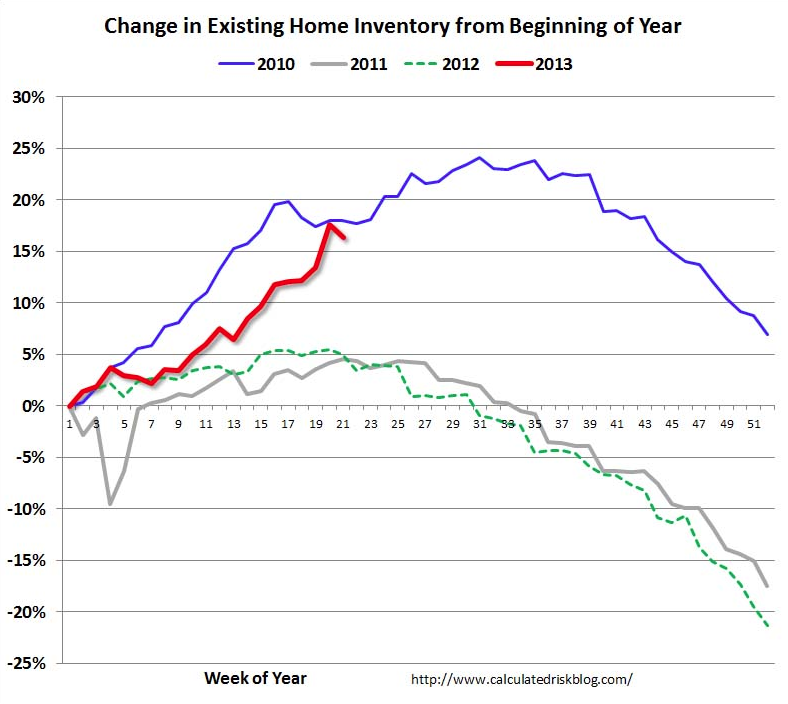 As the graph demonstrates, inventory in 2011 and 2012 started out reasonably well, but starting in late June/early July, it began tapering off; so the real test in 2013, then, will be whether housing inventory can sustain its early 2013 gains.
How We'll Know if Housing Inventory Has Bottomed
As we reported at the start of the year, there have been three root causes for the decline in housing inventory: first, home price declines during the housing downturn rendered many homeowners (roughly 10 million) underwater on their mortgages, with another 10 million having less than 20 percent equity – and such financial situations, obviously, make listing one's home on the market a bit difficult; second, many sellers have been waiting for prices to increase further, in order to lock-in greater returns on their homes; and third, though home sales have risen, many of those sales have gone to investors, who have rented out (rather than sold) the homes after they've bought them and rehabbed them.
The good news is, housing prices have been rising aggressively in 2013, investor demand is cooling and consumers are growing ever more confident with the housing market; does all that translate to an inventory increase this year? We'll have to wait and see.