Days it Takes For a Transaction to Close
Both buyers and sellers should be made aware that buying a home is often not a quick process. LeapRE found that last year, the average time taken from the contract to the closing was 53 days. The chart below shows which percentage of closed transactions went from contract to close within the specified ranges of number of days. Good news, though – after receiving a contract, most transactions still closed in under 45 days.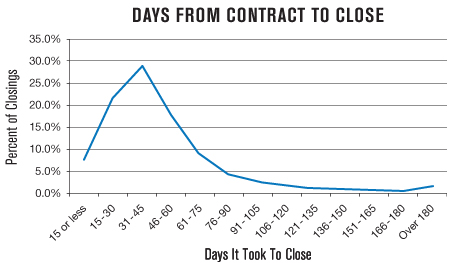 Leap Real Estate Systems is the leading provider of online solutions for Chicagoland's progressive agents. With over 20 years of software development experience and a keen understanding of the real estate industry through analytics, our mission is to create innovative products that improve seller communication and encourage data-driven decision making. For more information on our company and services, visit www.LeapRE.com.